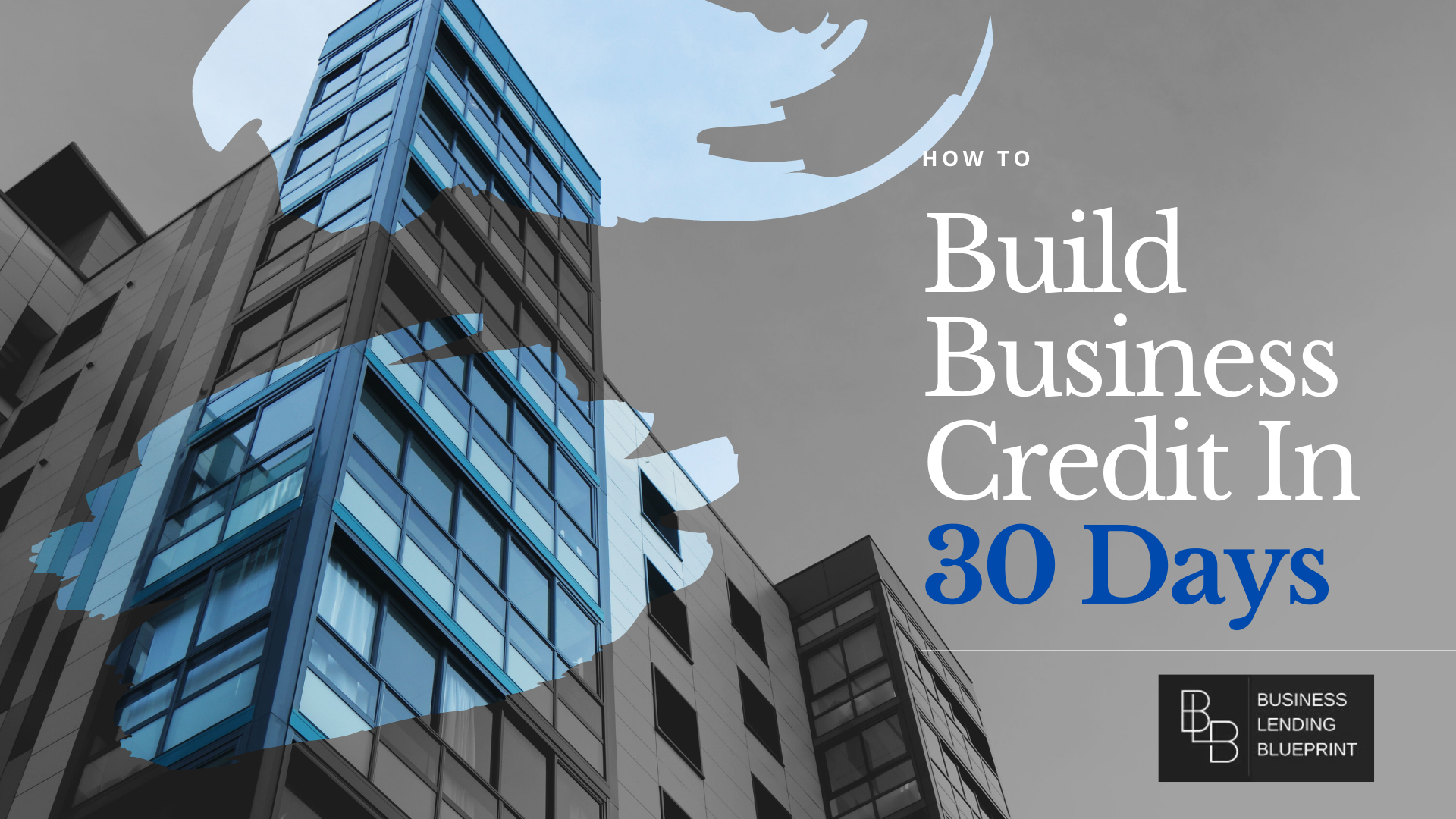 Today's economy isn't what it used to be. There's more financial difficulties for startups and established businesses than ever before. It isn't just about having a profitable product or service now. To succeed in business, you need good business credit. That's why we're going to present easy ways to build business credit in 30 days!
If you've been following our latest posts at BLB, then you know that we've covered a variety of ways to improve your business credibility. We'll touch on a few of those methods in a moment, but for now let's discuss the most important thing about business credit.
How To Build Business Credit In 30 Days: The Most Important Things To Remember


Building business credit hinges on some simple factors. Let's cover those now:
Business credit is only different when it is properly classified. If a business does not have a Duns Number (or D&B Number) then it is harder for companies to determine the company's credibility.
Many things be used to build credit. Business credit cards, on-time payments of a loan, and even creating a Dun & Bradstreet profile.
Invoicing, Net 30, Net 60 Payment Terms, and even Net 90 Vendors can be used to improve your credit score. (More on that shortly)
Knowing you SIC code makes it easy to distinguish your company based on industry. It also proves that your company is not conducting illegal activities.
Working with vendors that report business credit activity is a good way to boost your company's credit score.
Every company is different. Certain industries are treated as "riskier". This means you could still be turned down for loans even with a good credit score.
Credit score for a business can be confused with a person's credit score. Be sure you have separated them properly.
First Steps
There are several first steps to complete to ensure that your credit doesn't decline. Remember that it is much easier to ruin your business credit than improve it. So these steps are vital to future growth.
List Down All Current Debt
Being aware of your company's outstanding debt is critical to bettering your credit score. List down all of your credit card debt, owed invoices, and any loans that you are paying back.
Many companies in the United States don't understand their cashflow. Mapping out how frequently your cashflow comes in is important, so is understanding how much you are receiving.
Now that you have your business cashflow mapped it is important to make a plan to manage your debt. Have contingencies prepared to pay back the money owed. Remember that any late payments or defaulting on the loan will negatively impact your credit. It takes time to build positive credit, but a negative impact like this takes effect quickly.
Having a way to mitigate the risk of debt payments is important. A plan will help your company be prepared for unexpected interruptions with your debt control.
Next Steps
Once you have a firm grasp on the debt your company has and the means to mitigate it, it is time to take the next steps.The next steps are to begin using credit building techniques.
Here are some of the more common credit building techniques that increase your business credit strength:
Net D Financing (Vendor Invoicing)
Purchasing business related items through vendors is a prime opportunity to build your credit. If the vendor offers invoices or "Net D" financing, your company builds your credit just by making payments on time. We've covered this topic extensively on our company blog. Definitely check out those posts (linked above) if you want to learn more about that credit building technique).
Open New Savings Accounts Or Company Accounts
Creditors prefer to see that a company has multiple banking accounts or signs that the business is established. A Dun & Bradstreet profile can prove invaluable to boost your credit score because it will allow for more accurate reports. If you are managing your payments or consistently doing business with vendors that report business credit, this will help your company's credit score big time.
Leverage Your Business For Better Credit & Capital
Here at Business Lending Blueprint we teach people how to build better credit for their businesses and leverage their businesses for massive amounts of working capital. To do this, we have developed a training that covers these effective techniques.
Make Money In A Recession-Proof Industry


Want to build your business credit while also building a recession proof service? We teach people how to break free from their jobs and or break into a stable industry. This industry is loan brokering and credit repair. Unlike many other industries, loan brokering thrives even when the economy is crashing. Because no matter the economy, companies still need funds to function! (Especially for seasonal companies)
My name is Oz Konar and I am the creator of the Business Lending Blueprint. We have taught people things that standard academia never mentions.
When was the last time you saw a promotion from a college or government funded educational program discussing how to secure your financial future for a repeat of 2020? That's right, you haven't. Standard schools are designed to create workers and soldiers, not entrepreneurs.
I was a loan broker for years before I realized just how many people wanted to learn the secrets of this business. I now train people around the world to become a loan broker and build a future for themselves and their loved ones.
Watch My Free Training, Build Business Credit In 30 Days

If you are interested in this opportunity, then watch my free 70 minute training video. It goes in-depth on everything you need to get started.
Our students see results in their first 30-60 days. Many quit their jobs and build businesses as loan brokers. Of course, this opportunity isn't for everyone. Many people buy courses but never use them. It is important to remember that this is your choice. Opportunities are there for a reason. You don't have to do anything. You can choose to make a choice to take advantage of this training, or not.
Click the button below to watch the training. (Many companies never offer a thorough explanation of their courses. But we believe you should make an educated decision with eyes wide open!)

Regards
Oz