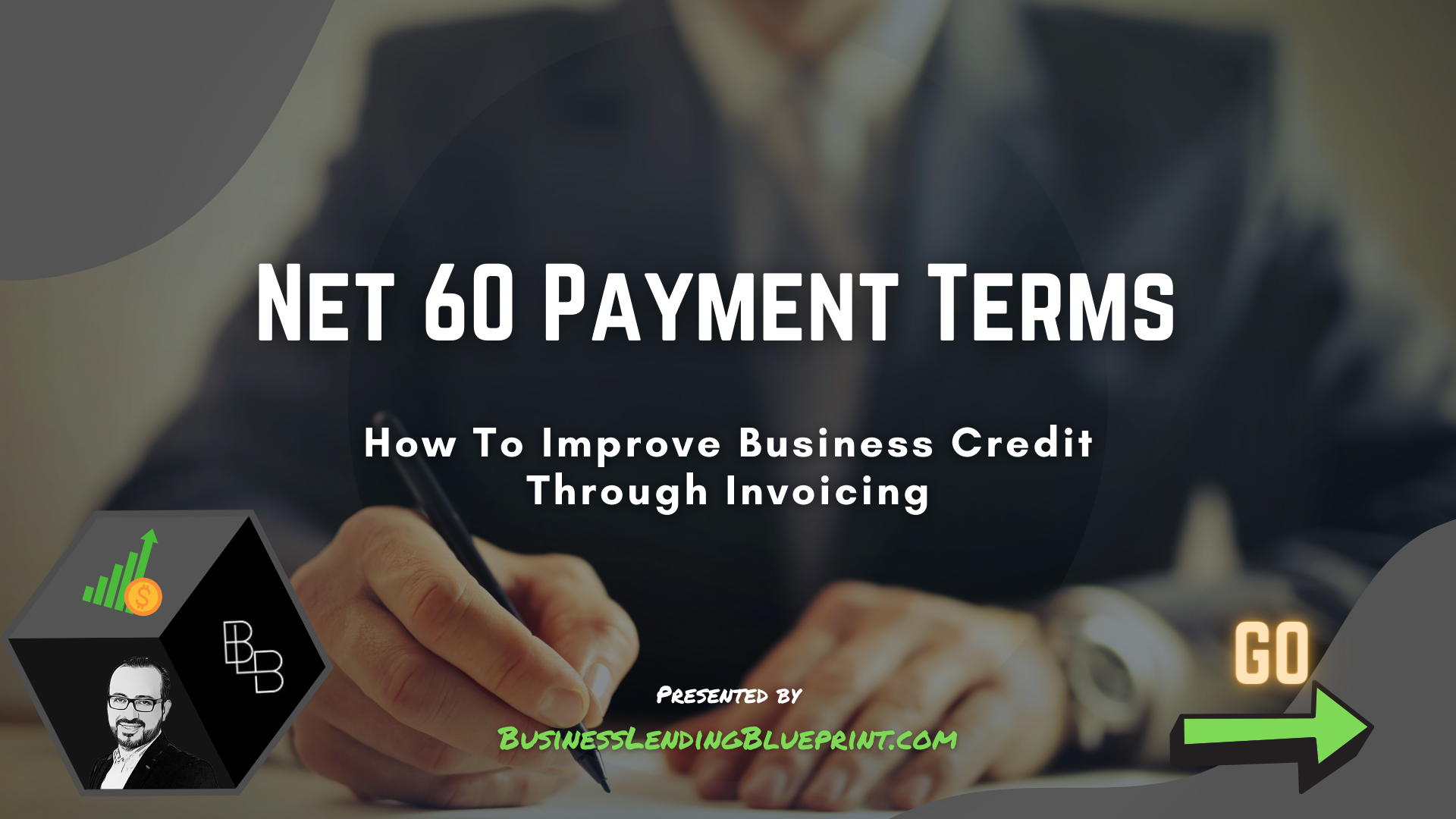 Many companies want to know how to improve business credit through invoicing. The simplest way to do that is probably with Net 60 payment terms. Contrary to popular belief, you don't need a credit card or a super high credit score to qualify for Net 60 or even Net 30 Vendors.
It should be noted that Net 60 is just one kind of method for building your business credit profile. When a company uses a business credit card, agrees to pay an owed amount within a certain time period (invoice) these are ways of building positive business credit. There is no right or wrong way to pay for goods from a vendor, but paying outright doesn't build your business' credit score.
This is why companies might pay through invoices or Net 60 even when they can fully afford what they're buying. It is also used to help bolster a company's D&B Number (Dun & Bradstreet Number).
Let's cover the kind of agreement that Net 60 really is, and how you can fully benefit from this buying tactic.
What Net 60 Payment Terms Are Available?
Net 60 is a specified version of "Net D". Where "Net" stands for the full amount owed, and "D" stands for duration.
As previously covered in our Net 30 Vendors article, there can be Net 10, Net 15, Net 30, Net 60, or even Net 90 payment terms!
However, the duration is generally set by how much the purchase amount will be. For instance, there can be "tiered" payment terms, where the larger amount owed merits a longer Net D.
There are pros and cons to Net 60 payment terms and all Net D payment terms. This kind of invoicing isn't for everyone, and any business that wants to improve business credit this way should understand the risks.
How To Get Net 60 Payment Terms?
Many companies do not offer Net 60 payment terms because the financing is generally reserved for larger purchases. A purchase of $100 or less is probably not going to qualify for Net 30 or Net 60 payment terms.
When applying for this kind of financing, one only has to ask the vendor. Common vendors include those that supply marketing supplies, office supplies, branding apparel and inventory.
Your credit score is another factor to consider when applying for Net 60 financing. Many companies have penalties for late payments, others simply reject clients for Net 60 payment terms because of their credit score.
Which brings us to another realization about these kinds of invoices:
Most companies slow down their payments to improve their accounts payable and to increase profits. Ironically, it actually benefits the purchaser to not pay all at once in modern society. When a company pays with credit or invoices, their credit score goes up when they pay it off within the set time frame.
Are There Risks?
As with most kinds of credit-related endeavors, there is risk.
Make sure to ask a vendor about the following when considering Net 60 payments terms:
What kind of late fees or interest charges are accrued if you don't make a payment on time?
Are there fees to pay off the invoice early?
Are there minimum payments and or maximums?
Once you have this information, make a plan in your accounting to cover the costs.
The Most Common Problem Companies Face With Net 60 Payment Terms


The most common problem companies encounter with this type of financing is that they don't manage their cash flow. The same goes for the vendor. Many are not familiar with structuring their invoices to get paid quickly. This is partially because the payment terms weren't done right.
However, the company making the purchases is at greater risk than the vendor usually.
If they don't manage their own cash flow, they can't make the payments for the net 60 payments terms. This will have a highly negative effect on their credit score and D&B profile. It could even lead to legal ramifications if the payments aren't made.
Why Do Vendors & Merchants Agree To Net 60 Payment Terms?
The reason many companies now accept Net 60 payment terms stems from their desire to increase sales and their business contacts. It does the vendor or merchant little benefit by accepting invoices except that they are doing business with a buyer. The buyer's credit score increases, and the seller receives a new client with payment promised.
The Net D payment terms that modern companies use are essentially a way for the economy to be less of a factor during transactions.
Creative Financing & A 'Recession-Proof' Opportunity
Have you been looking at Net 60 payment terms and wanting to learn more about these kinds of creative financing techniques? Do you want to increase your business income and or create something that is "recession-proof"?
Well then you've come to the right place!
Here at Business Lending Blueprint we teach people how to fix the biggest problem they face: Cash flow.
If a business doesn't have cash flow, there is no business, it's that simple. But you might be saying, "Hey, my industry is booming right now, of course I have cash flow! Why do I need to look for new business opportunities?"
Because the majority of industries today are not "recession-proof", meaning they can fully lose their value and cash flow in an instant.
Think about this:
Does your business work when supply lines fail?
Does your industry serve a critical need that is always present?
Is your business reliant on physical locations? Or can you operate solely on the internet?
How do you take payments? Is it always through Net 60 payment terms or invoices? Do you offer payment terms with cash?
How does your business handle labor shortages?'
Can your business stay afloat without loans?
A Recession Means Big Losses… But Not For Everyone
Our students who have gone through the "Blueprint" have built businesses that replaced their 9-5 jobs. They have built something that gives them financial freedom like never before. But unlike other business opportunities, the kind of service we teach is always in demand. That service is loan brokering! What's the product? Money.
Every business needs money, and in 2020, that was fully seen worldwide. When a recession hits, businesses need money to function.
If you'd like to learn more, click the button below and watch our Free 70 minute training video which details everything you need to know about this opportunity!
See you soon!

Regards,
Oz