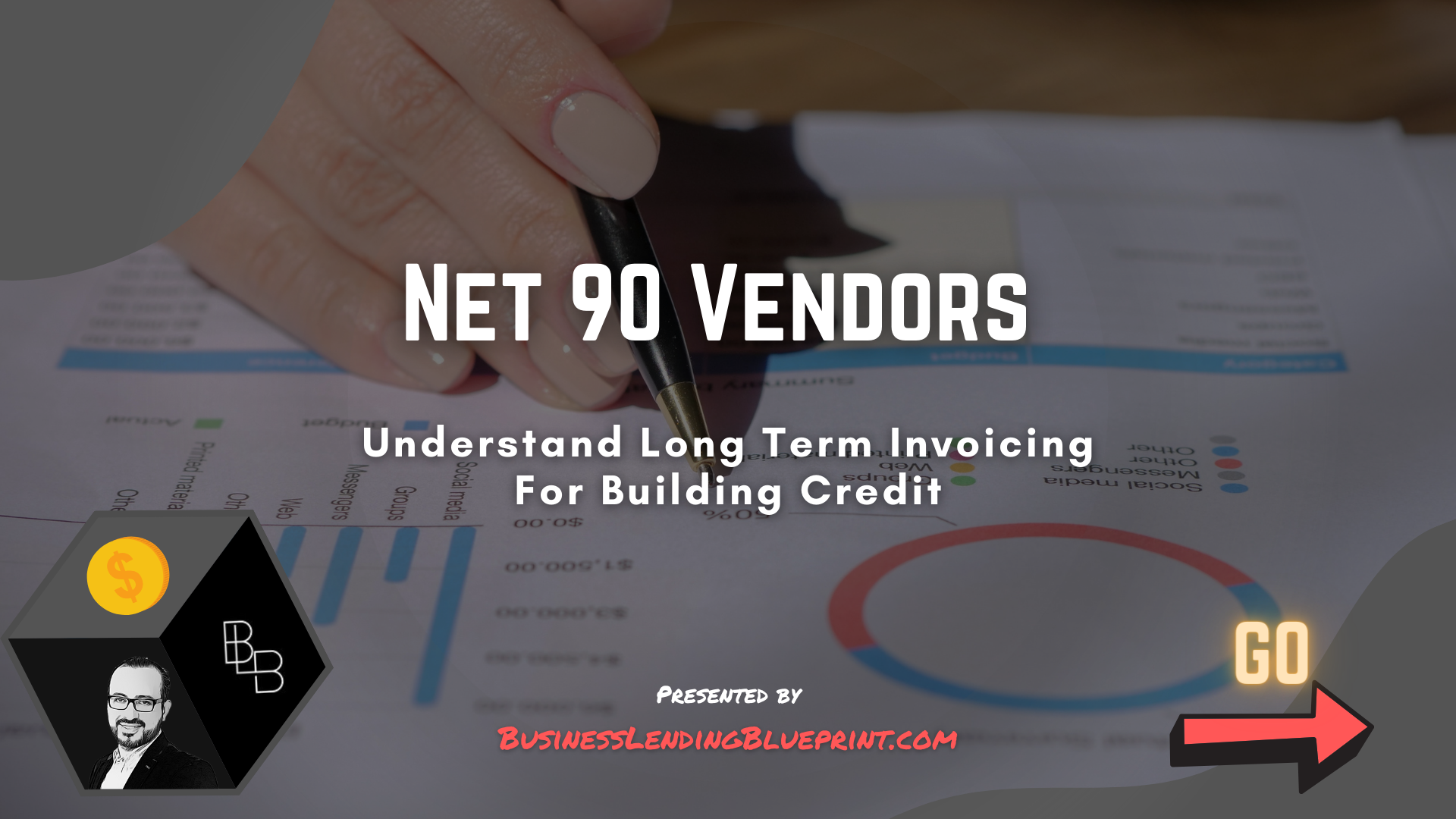 For those who have been following our latest posts here at BLB, we have covered a number of highly important topics about credit building. We've covered Net 30, Net 60, and even how to unlock $150,000 with low to 0% interest. Today however, we are going to discuss a larger extension of standard Net D invoicing. Net 90 Vendors specifically.
There a few things to go over to fully understand Net 90 Vendors and how to find them. Let's get right into this.
Net 90 Vendors & Invoicing For Credit Building


If any company is looking to build their credit score (especially after creating a D&B Number with a profile) then this technique is one they would use.
By utilizing Net D financing, companies can improve their credit score just by paying through this type of invoicing. The promise to pay what is owed by a set time allows for companies to improve credit without interest rates. (Interest is quickly accrued when using business credit cards. Which is an undesirable aspect of using business credit lines)
Of course, if you're familiar with this kind of financing, then you are familiar with how picky Net 90 Vendors can be.
Fundamentals Of Invoicing
When a vendor approves you for a Net D invoice, it means they are allowing you to pay them for the services/goods rendered in a specified amount of time. This means you aren't paying the entire amount owed up front. This can be advantageous for credit building and to acquire needed goods before having to pay for them in-full.
There are risks involved with going into debt, so it is advisable that you seek legal counsel if you are expecting to sign many invoices and go into large debt.
Are Net 90 Vendors Hard To Find?
Oddly enough, Net 90 vendors are not difficult to find. They are simply difficult to qualify for and are circumstantial.
Here's some things to remember about Net 90 vendors and Net D financing:
Vendors offer this kind of financing to companies who are making a large to extra-large purchase. There are exceptions, but the larger the purchase the better chance of approval.
Many companies will offer Net D financing, but fewer qualify without a D&B number, a decent credit score, and a large enough purchase.
Although many vendors do offer Net 90, most prefer Net 30 or Net 60 since it means they get paid faster.
Vendors are not your friends, they are your clients. Make sure you understand all agreements and penalties associated with the financing.
How Many Vendors Exist?
There is practically no end to the number of vendors who offer this kind of financing. Because there are so many niche industries that have come into existence in Western society, there is almost always a vendor who can work with you.
To find the kind of financing you desire. Make sure to do the following prior to signing any agreements:
Determine how much you are willing to spend.
Account for any unexpected interruptions with your cashflow. One of the biggest issues that companies face is that they don't handle their cashflow correctly.
Find out whether there are late fees for not paying the money owed on time.
Do you need what the vendor is offering? Don't build relationships with companies that don't help your business. There are plenty of vendors in prime industries that can benefit your company.
Does it benefit your business to use such a long duration to pay for the goods? Or should you use a shorter invoice period?
Longer terms mean that you have more time to pay back what is owed. But realize that you may want to pay it back sooner. Do they charge any fees for paying off the invoice entirely? (Most won't probably)
Why Use Invoices Instead Of Credit Cards?

This is entirely up to your company preferences. Using an invoice rarely has any kind of cashback or monetary incentive that a credit card can offer. But the interest that is accrued and the duration that you have to pay back what is owed drastically varies.
There are ways to transfer credit card balances onto other cards with 0% APR for 12 months or more, but that is another tactic entirely. For most companies, an invoice makes far more sense for acquiring items like:
Inventory
Apparel
Branding
Marketing Items
And other essential goods.
Vendors aren't necessarily hard to find. Simply search for what your business needs online and inquire about what kind of financing they offer. Invoicing has never been simpler in today's market. So many companies are now setup for online payment processing.
Cashing In On Invoices
Invoicing has become so popular for vendors, that many will take out a loan against them. This is largely why Net 90 vendors aren't as prolific. The financing terms don't benefit the vendor as much as the company buying their goods.
There are ways to mitigate the risk associated with the invoice, but ultimately, vendors prefer to be paid in full unless the terms are otherwise less profitable.
For instance, if a company is willing to spend $5000 with 90 days to pay it back, but only willing to spend $1000 with 30 days to pay it back, many vendors will become flexible.
However, if the vendor needs to cash out quickly, they can sell a portion of the invoices and get money for them quickly.
To do this, a loan broker can be brought in to make the process faster.
Conclusion
Here at BusinessLendingBlueprint.com we teach our students how to build a business that capitalizes on these kinds of loans for massive profit. Becoming a business loan broker is just a part of the "recession-proof" business model we teach.
We are so confident in our program that we have developed a free 70 minute training video that details everything you need to know about this opportunity.
Want to quit your job and be sure of your finances the next time an economic collapse occurs? (Like in 2020 with millions losing their jobs?)
Don't wait, click the button below and start building your financing future powerfully like never before!

Regards
Oz