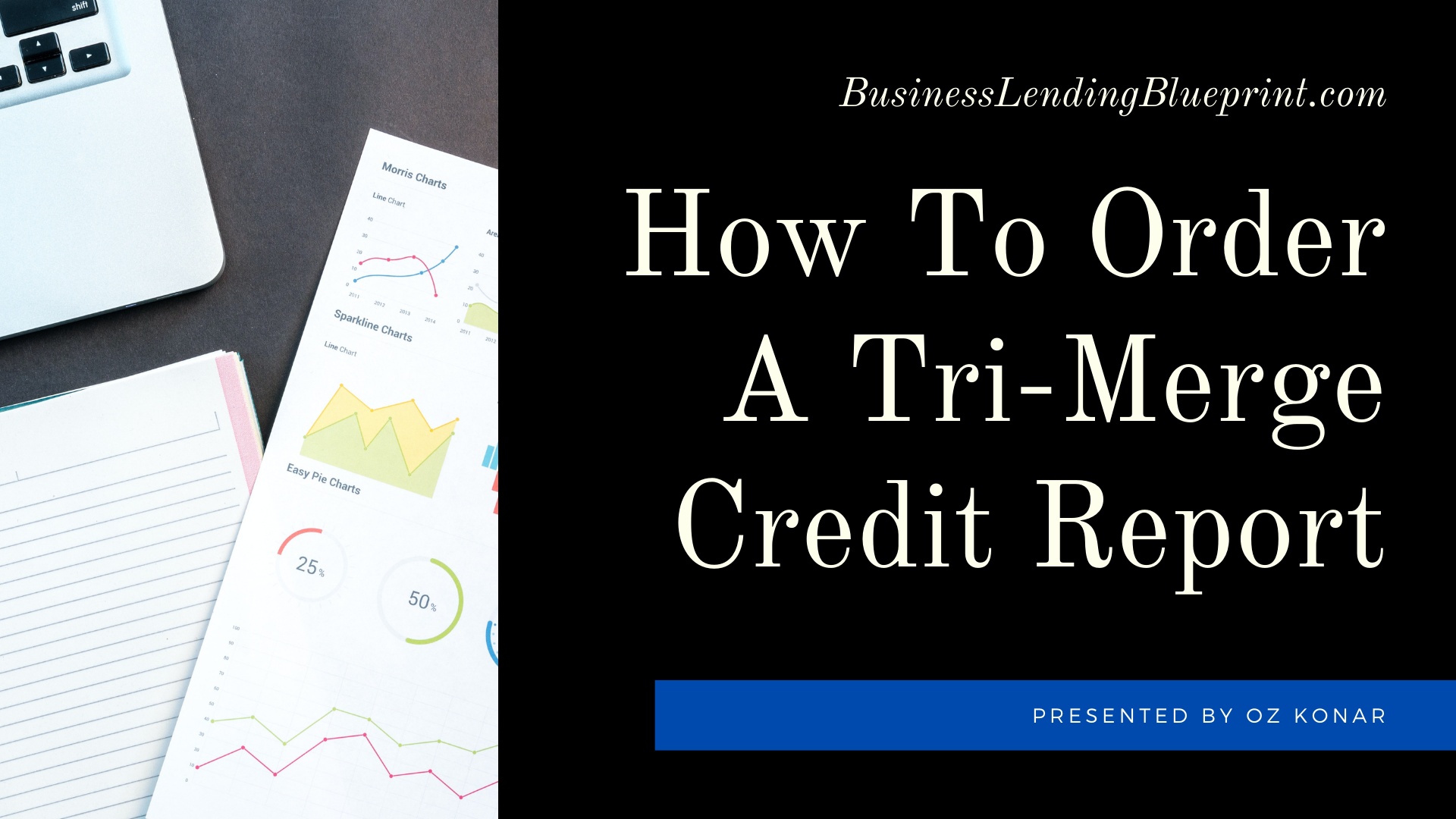 With the invention of credit reporting agencies, and in-depth reports, came a demand for fast deliveries of information. Many companies want to know how to order a tri-merge credit report. Unfortunately, many companies don't understand what tri-merge credit reports are for.
With industries coming into existence faster than ever before. Creditors are using SIC & NAISC codes to understand what kind of business each company is classified under. The need for D&B Numbers is yet further proof of how important good credit & reporting is today.
Today we're going to cover exactly what these reports are for and how to acquire them.
How To Order A Tri-Merge Credit Report


A tri-merge report is also known as a "tri-mortgage" report. It consists of 3 separate credit reports from three different companies. Those companies are ExperianTM, Equifax® and TransUnion®. There are a few things to remember about a tri-merge report:
If you are not a lender, you will not have access to a tri-merge report. In fact, there is no way to acquire a tri-merge report for any other kind of business. However, anyone can compile the credit reports from Experian, Equifac, and TransUnion via separate requests. (You can technically get a tri-merge report without requesting one through this method.)
A tri-merge credit report gives greater details about your credit profile. Lenders often get a tri-merge report before approving loan requests.
You are entitled to one free report from Experian, Equifac, and TransUnion every year. (In the United States, you are entitled to receive one free copy of your credit reports every year. This means you can reach out to all three of these companies and get the report they create. Many people do this to get all three reports once each year)
It should be noted that these three reports are generally used to evaluate individual credit history, not a business'. A company's credit profile will be listed on Duns & Bradstreet in most cases, or it will be linked to the operator.
Why Use A Tri-Merge Credit Report?
Lenders prefer using three reports in a tri-mortgage report because it is more comprehensive. Even if one of the reports isn't entirely accurate, having two more is going to appropriately offset the difference. This allows for a full-spectrum view of someone's credit history and score.
This kind of report can negatively or positively affect your application.
Can Negative Reports Ruin My Mortgage Application?
Yes. A negative set of reports can dissuade a lender from loaning you money. However, there remains a surplus of lending companies or institutions in the United States. Lenders may still approve you even if you have a bad credit score.
If you've wondered how to order a tri-merge credit report in hopes that it will improve your chances, this isn't going to work. In fact, it might be better for a lender to be the one to order that anyway. Unless you know that your score is fantastic, there is no reason to push for more reports unless that is required by the lender.
Are There Ways To Modify My Credit Report?
Unfortunately, only D&B credit profiles can truly be edited to look more appealing. Those profiles are given out to businesses, not individuals. If you are attempting to modify your credit score/report, then you should seek credit repair services.
Most legitimate credit repair services aren't able to help individuals, they help businesses. Unless erros are present, your report is probably accurate. (Or fraud could have caused false information to be present.)
If you suspect that your credit score is incorrect or that fraud has occurred, try the following:
Check all of your online credit card accounts. Review transactions to see if anything is out of the ordinary.
Review your banks latest statements. If you have online access to those reports, look over them thoroughly.
If you have taken out any loans or agreed to any invoices, confirm that you are not overdue for any payments.


A person's credit score is incredibly important. Having good personal credit has many advantages no matter what industry you go into.
There are a number of ways that you can organically improve your credit score:
Put all of your credit cards on auto pay and pay off the balance.Making minimum payments increases interest and costs you more money anyway. If your credit cards don't have an auto pay feature, that is a good indication you need better credit cards. Discover, Capital One, and other big credit card merchants all offer auto payments.
Have a good amount of credit cards, but open them gradually. Don't open too many all at once or it will negatively affect your credit score.
Use your credit cards for everyday purchases and put them on auto pay. This way you are effectively taking a loan that is paid back within the month. This is looked upon favorably by creditors and lenders even if you could fully afford what you bought.
Use a credit repair company.
Opportunities For Profit In Credit Repair
Although certain professions within the lending industry require a license, becoming a loan broker doesn't require a license. In fact, here at Business Lending Blueprint we teach people how to quit their jobs and make 6 figures a year as a business loan broker.
More companies need better credit to offset rising expenses. Practically every industry values credit repair.
The primary issue with jobs is that you have little control over an industry, product, or service. You are a function of a business that will usually go on without you. It is paramount that you establish yourself in something that is persistent. Otherwise you will face a similar financial situation to millions of people in 2020.
Many jobs were lost and many realized the fragility of their professions.
Don't settle for something that will disappear the moment an economic crash occurs, become a loan broker and enter the "recession proof" business model today!
Click the button below right now. Our free 70 minute training video details everything you need to know!

Regards,
Oz