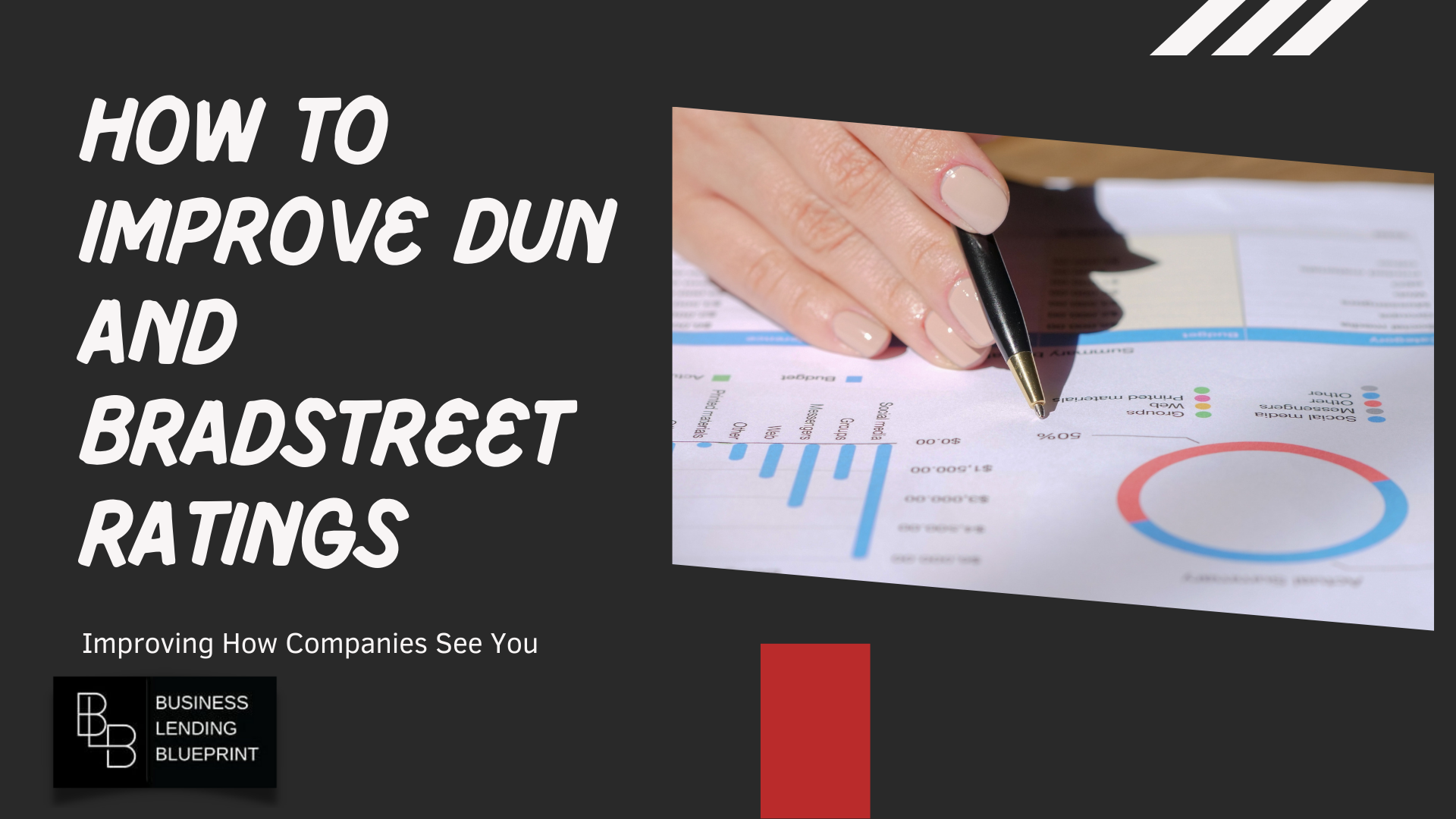 If you've been keeping up with our latest posts, then you'll know that we've covered many important topics. Whether it has been discussing the fundamentals of Net 30 Financing to building business credit in 30 days, we've discussed it.Today we are going to build on a previously discussed topic about D&B Numbers. That's right, we're going to talk about how to improve Dun and Bradstreet ratings easily and effectively.
To preface today's article, let's also address the most common questions that people have regarding D&B numbers in general.
A D&B rating is similar to a company's credit score. Except the rating is calculated by a Company knows as "Dun & Bradstreet", and has different parameters.
Unlike a credit score, a D&B rating doesn't use the following data:
How much available credit you have.
How much credit you are currently using.
What loans you have or the types of loans your using.
Instead, a D&B rating uses your trade references, vendor transactions, your length of time in business and a few other factors.
How To Improve Dun And Bradstreet Ratings With The Right Goals


Unlike other credit building strategies, you don't need a lot of money to improve your D&B rating. In fact, sometimes focusing less on it, and just working to improve your profits and level of operation can yield faster results. That may seem counter-intuitive but consider this:
One of the biggest problems businesses face is a lack of proper cashflow management.
Many companies are more concerned with improving their credit score or D&B ratings but aren't tackling the biggest issues. Marketing, sales, and expansion are crucial parts of successful business, but most don't have those parts down.
Companies that want to improve their businesses don't have a specific goal in mind. What is the benefit of improving a business if there is no clear intention or result?
Companies that improve their D&B ratings should focus on it if they are trying to do any of the following:
Have more opportunities to work with vendors and suppliers.
Increase their chances for loan approval.
Become eligible to work with government contracts.
Open more international opportunities.
Do You Need Credit Cards To Improve D&B Ratings?
No, you do not need credit cards to improve your Dun And Bradstreet ratings. In fact, some of the best profiles possible are created with less credit cards and more creative financing techniques. However, credit cards can be a fantastic way to take credit and liquidate it.
Those techniques aren't difficult to utilize but aren't generally well understood. That's why we made this article today. Bringing awareness to better creative financing means faster positive credit growth and better chances to mitigate financial problems.
How To Improve Dun And Bradstreet Ratings For Newer Companies


Unlike standard financing terms for consumers (who will almost always use credit cards), companies have a variety of ways to leverage credit.
Here's just a few ways companies can improve their Dun and Bradstreet ratings:
Business Credit Cards
Lines Of Credit
Invoices
Loans
Leasing
Credit Repair
Working With Vendors
These techniques are generally used to improve your credit score, but they will also help your D&B Ratings. let's discuss how each of these can help your company D&B ratings.
Using Business Credit Cards
Business credit cards are probably the fastest way to start improving your company's credit score. They are also highly accessible as a source of working capital This means you can simply accept the credit card offers you've received and start making purchases. There are some key things to keep in mind about this method however:
Credit cards have high interest rates. These are better for small purchases.
If you are using credit cards to improve Dun and Bradstreet ratings, then it is highly advisable that you work with vendors that report business credit.
You should also remember to have good control over your cashflow and payments. Credit cards are much riskier than other credit building options simply because they accrue interest so fast.
Lines Of Credit
Similar to using credit cards, only a card isn't issued, a line of money is extended. These lines of credit can sometimes offer better terms than credit cards, so this is a viable option for those looking for other ways to acquire working capital. Using a line of credit properly will build your credit score and positively impact your D&B profile when your good business is reported.
How To Improve Dun And Bradstreet Ratings – Invoices
Easily the most common way that companies will improve their credit score. Invoices are exclusive to businesses and allow for some of the most flexible financing possible. Invoices give companies the chance to pay what is owed to a vendor before a set due date. This means that they have a certain amount of time to pay their debt.
This may sound like a credit card or a line or credit, but it isn't. An invoice is an agreement between companies that the debt will be paid… without interest.
That's right! Companies can purchase goods and even services through invoices.
Which brings us to the next way to improve your D&B rankings.
Net D Financing
We have covered Net D financing terms quite extensively so far, and we continue to make it understandable for people everywhere. Net D is basically invoicing but with 15, 30, 45, 60, and even 90 days for the terms. These terms generally accrue no interest and present some of the best financing terms for companies looking to avoid interest payments. (Besides the fact that they are excellent for building business credit and improving your D&B rankings.
Loans
Loans are a 50/50 gamble in many cases. Taking on debt and paying off said debt can cancel each other out, but you are likely going to see your credit score drop upon taking large loans. In fact, the business market is highly similar to the consumer market in regard to how loans are perceived.They are generally a negative influence upon your credit score and public profiles.
However, smaller "short-term" loans can be used effectively to boost your credit score quickly. Using credit then paying it back quickly is what creditors and vendors want to see!
Leasing
If you have ever leased a car for your business before, then this should be familiar. Heck, if you have simply rented a home, or rented anything for that matter, then you will understand leasing.
We've actually covered what kind of requirements are needed to lease a company car in a previous article.
By leasing something, you can effectively pay what is owed in a continuous cycle, this improves your credit score and company profile. It shows that you are responsible with the residual expenses/debt that you take one.
How To Improve Dun And Bradstreet Ratings – Credit Repair Services
Although not the most common way to improve your company D&B rankings, this strategy can work. If you suspect there have been errors in your credit reporting, then you should seek to remedy them yourself or hire help. In many cases, you won't need professional credit repair, but if you have the cash, this can be viable for you.
Working With Vendors That Report Business Credit
The aforementioned strategy of working with companies that report business credit is quite a good one. It makes it possible to kill two birds with one stone. You improve your credit and you also get the goods or services you need.
If you want to learn more about that, then click the link here.
Conclusion
Want to build a recession-proof business that can withstand the next economic crash or Covid pandemic? Then click the button below and learn how right now!
Here at Business Lending Blueprint we are equipping people with the tools and education they need to build 6-7 figure businesses! We aren't interested in mediocrity, we strive to give our students the most effective methods to build long-lasting wealth!
Although not everyone will take this offer, you can! You have an opportunity to become your best version of yourself, and build a business that won't disappear with the next recession!
Join the Revolution and build your life the way you deserve!

Regards
Oz