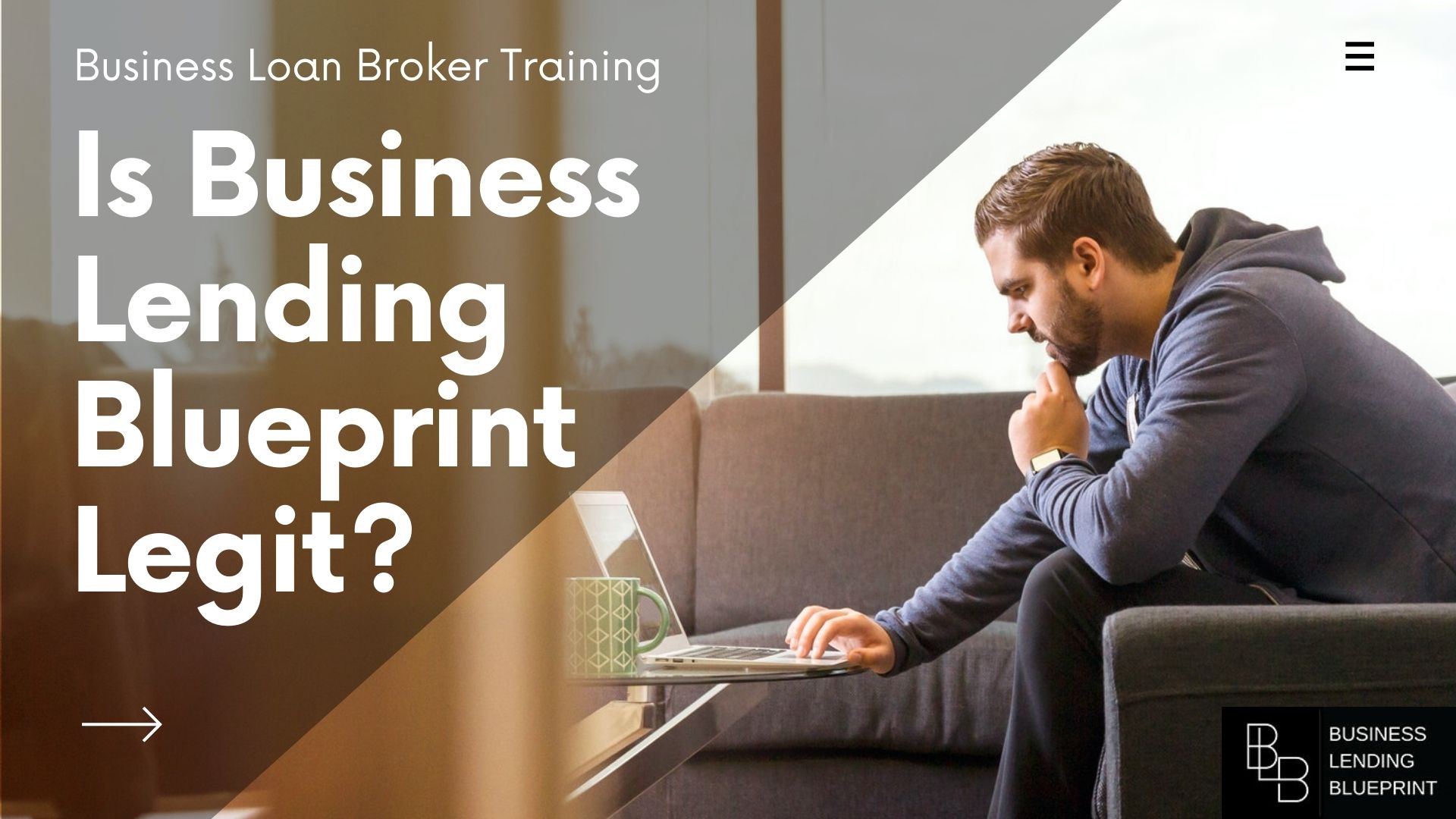 This is one of the most common questions that we hear from our newer students and onlookers. They want to know "Is Business Lending Blueprint legit"? The reason for them asking isn't always the same, however.
In fact, as a business loan broker training, we are one of the most affordable and proven ways to learn this business model. So why do people ask this question? Well, it is usually because they have had an unpleasant experience before with a business model.
We make it a mission to show how safe and effective this "blueprint" really is, which is why we have multiple pages filled with testimonials and a FAQ page to answer other common questions.
Maybe you are trying to figure out if this business model is right for you, or you simply aren't convinced about our testimonials? If that is the case, then allow me to explain some things about this business model.
This Business Is 100% Legit, And It Works Fast If You Do!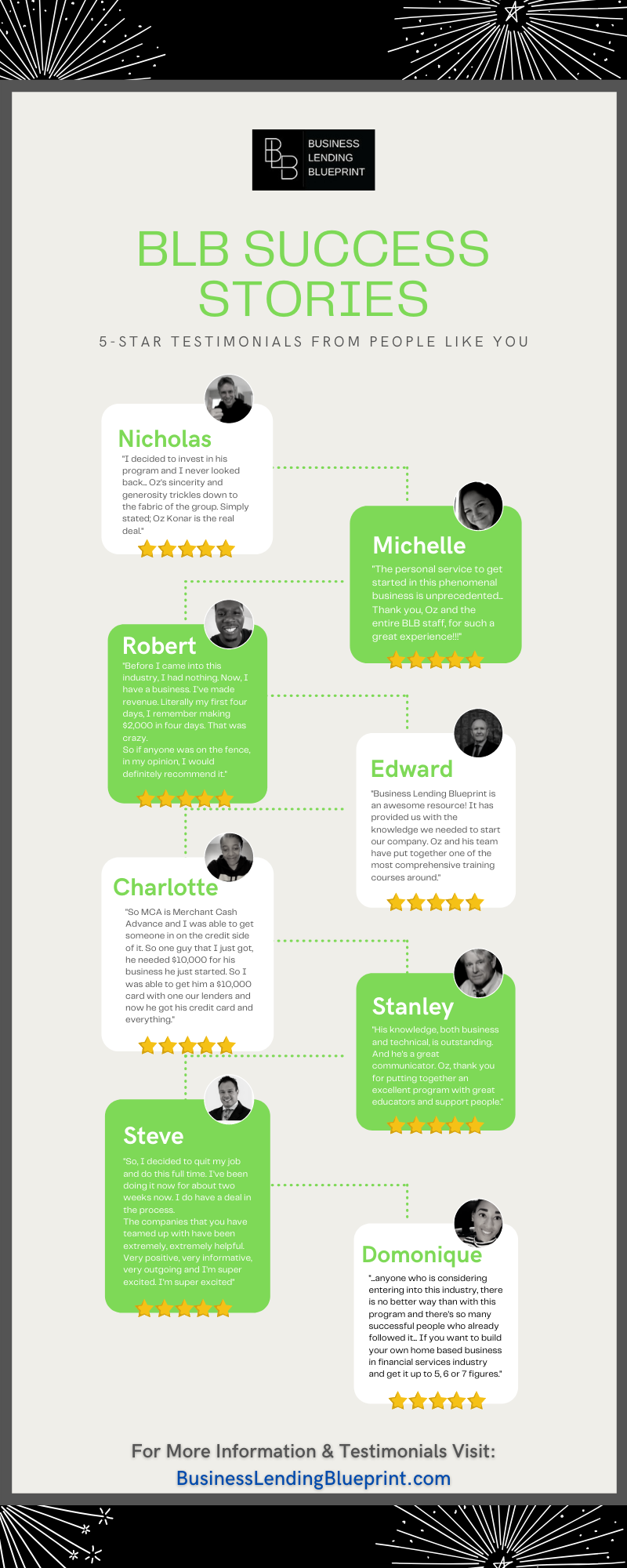 This isn't a robot that does business for you. This is a formula for success. It is like a recipe for a pie. That pie will not bake itself, even if you have the recipe!
We aren't about making things up or making false promises. Consistently is important to us, which is why we usually tell interested parties to watch our free 70 minute training video. The video is not a sales pitch. It is an educational presentation of what it means to be a business loan broker. The business of selling the most popular thing on the market: "Money!"
This business model will never go out of style and it is fully recession-proof. This means that no matter the direction that the market turns, lending brokers can stay afloat.
Another advantage that brokers have is that they aren't responsible for managing the loans, so no certification is needed. With no certification needed, the only thing standing in the way of being successful is you.
But It Can't Work Every Time Can It?
Winston Churchill once made a famous statement that stands true today: "Success is not final; failure is not fatal: it is the courage to continue that counts."
People want a button to push that solves all of their problems. Most people don't start businesses to improve their lives when they are content. 55% of entrepreneurs start their own businesses to be their own boss!
If they were happy with being an employee, why would they do that? They weren't fulfilled, nor were they happy with working on someone else's dreams, that's why!
If you are reading this, then you are most likely seriously considering this business model. But you are hesitating because you distrust people who show up with shiny ties and a fancy webpage.
And for good reason! It is easier than ever to start your own webpage, look good, sound good, and make something that appears worthwhile! Scams really are out there, but they only serve a short-term goal.
Here at BLB, we are in it for the long-haul, and want to see our students succeed! That's why we have the following to support them:
Coaching
Thorough Training
A Community Who Help Each Other
Educational Resources
Time Management
Quick Flow Charts
And More!
Why Enroll In Our Business Loan Broker Training?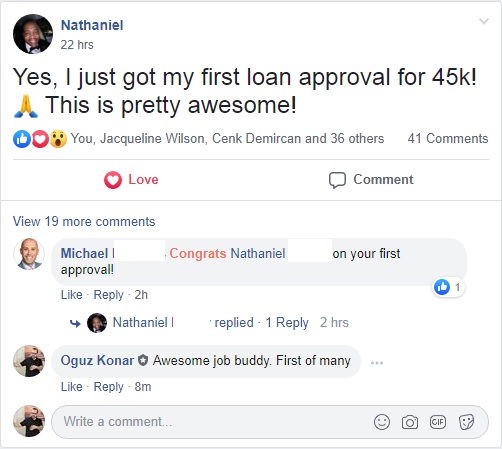 There are several reasons why business loan brokering is underrated currently. Many believe that this requires a license or some college-level education but it doesn't. Our students come from all different kinds of backgrounds and education levels. Those who have prior experience as a loan broker have said that they were able to start getting deals a bit faster. But those without prior experience have been able to close deals just as fast! (Usually closing deals 30-60 days from enrollment)
We also believe that education should speak for itself, which is why we offer a money back guarantee. (Unlike some educational companies which don't allow refunds at all)
Our training is not your average training course. Many companies provide resources for their students, and then they don't ever interact with them again! We feel that this is a totally unrealistic way to educate people. How is someone supposed to learn when there is a specific situation that arises or when they need guidance within the training itself?
Why Is Now A Good Time To Get Involved?
Technology continues to progress, but people are the ones who seem to stagnate in growth. When a certain level of education is reached (and age) people get stuck in their ways. Adaptability is something that people unconsciously desire, but don't pursue because they are "comfortable". This is the part of your mind that is trying to protect you from a perceived "danger". (Credit T. Harv Eker, famous author and self-help coach)
It is important to remember that you aren't 6 years old anymore. You can move forward pursuing the life you want despite your mind acting like the world is ending.The "danger" it is warning you about it not really there. It is just trying to keep you the same way you are now.
The irony here is that the world around us constantly changes, so why don't we? Change can be a good thing. Compromise isn't always a positive change, but even that can be useful. So when you think about the life you want to live, are you compromising? Are you growing, happy, educated?
The life you want to live will not be one of staying the same, it is one of rhythmic change day by day. Why not start now?
Moving Forward In The Right Direction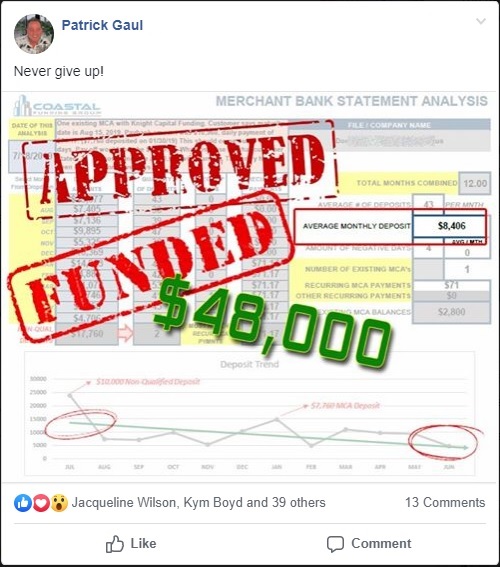 Because our lives are multi dimensional, we aren't just working on one part of ourselves each day. Eating, exercising, hygiene, this is physical improvement. When you drive, write, or learn, this is your mind improving. (Usually)
When you are working at a job, your finances, or your business, this is working on your career or money management.
When you spend time with your spouse, friends, children, relatives, this is your working on your family.
The journey of becoming your best self doesn't look the same for everyone because not everyone lives the same way. It isn't OK for us to measure the success of someone by their possessions or their appearance. Just look at celebrities today and you will quickly see just how unsuccessful many of their marriages are!
But aren't they super wealthy and popular? Yes, but resources and appearance can't replace character. Building experience, learning new things, working to build the life that you want, that is how you create good character.
We strongly believe that a business model should help you become wealthier, smarter, more independent, and more honest. That is why students can use our "blueprint" is so successfully!
What Does Success Look Like With This Business Model?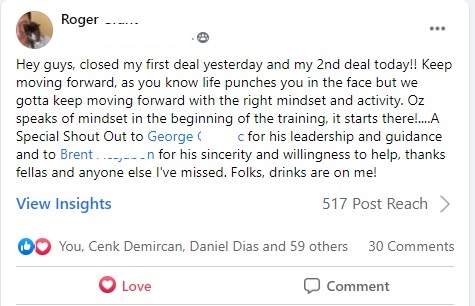 If you didn't check out the testimonials page above, then you are missing out on seeing just how many videos, snapshots, and written testimonials we have. So many people have found that they can certainly live their best lives by becoming a business loan broker.
The term may sound a bit funny, but so does a taxidermist, and they don't do taxes!
The necessity of a service like loan brokering will never become outdated. Having a middleman to structure a deal is really valuable in the eyes of businesses today. it saves time, resources, and best of all it gets the job done!
Merchant Cash Advance is probably the most well known online lending option today, and our course teaches how to use it for profit. (We teach many other lending options, not just MCA)
Of course, selling Merchant Cash Advance is really just us connecting two parties together for a commission. (One time commissions and residual commissions are fully possible as a broker)
Success with this business model usually has our students making 6 figures to 7 figures a year! That is no joke, this is a highly profitable market, especially after 2020.
So many businesses need funds, and it isn't always a crisis!

Putting Yourself In The Right Place At The Right Time
Our marketing strategies get you the kind of lending opportunities you want. But it isn't just about closing one deal or a multitude of them. It is about knowing how to use each deal as they come to you.
Some deals have a small profit margin, others have a massive amount of profit to be made. Our training teaching how to close deals in a way that supports you financially while making the client happy.
When they get the money they want/need, that's a win! When you get paid, that is the most important win!
Getting Paid Is The Greatest Business Secret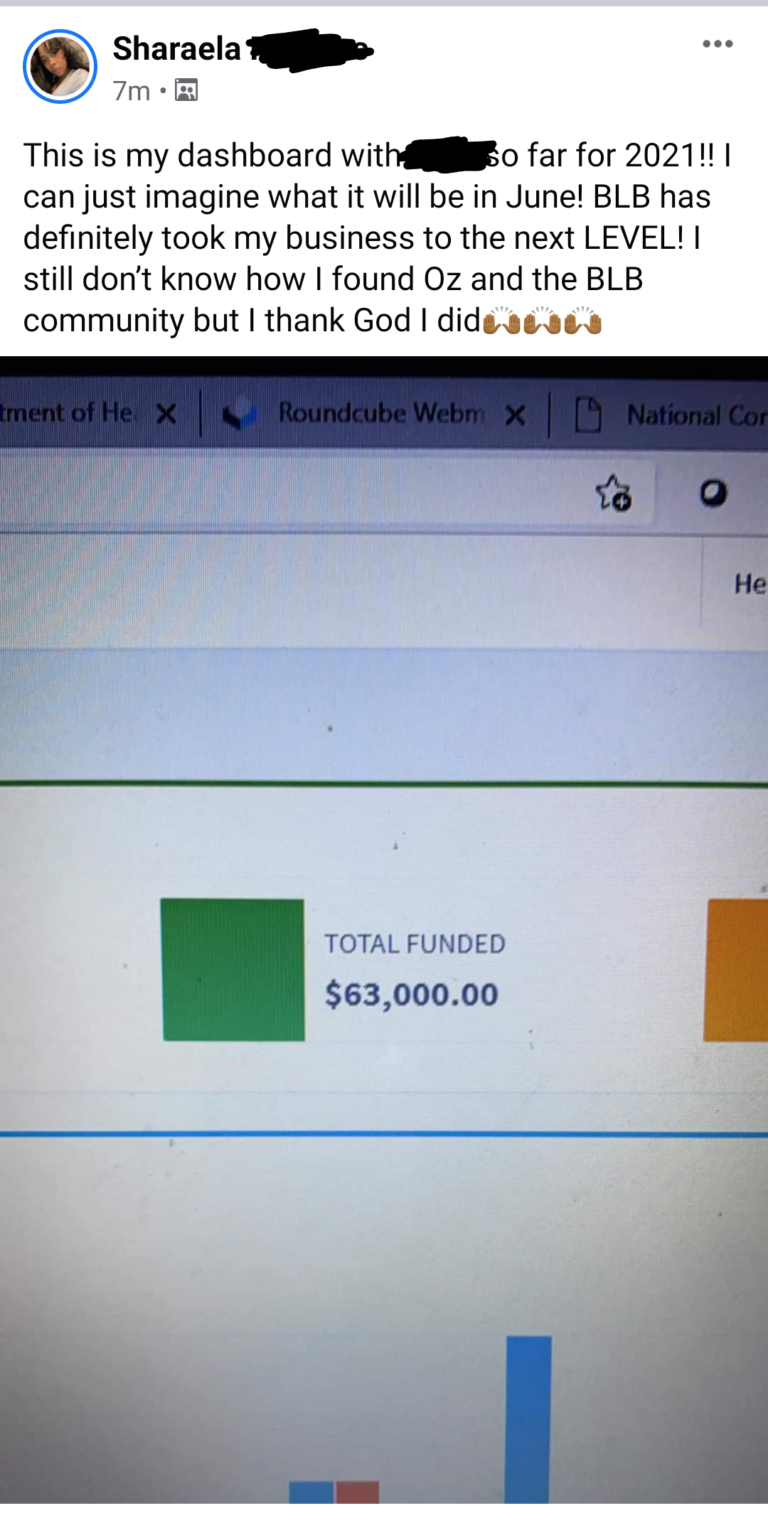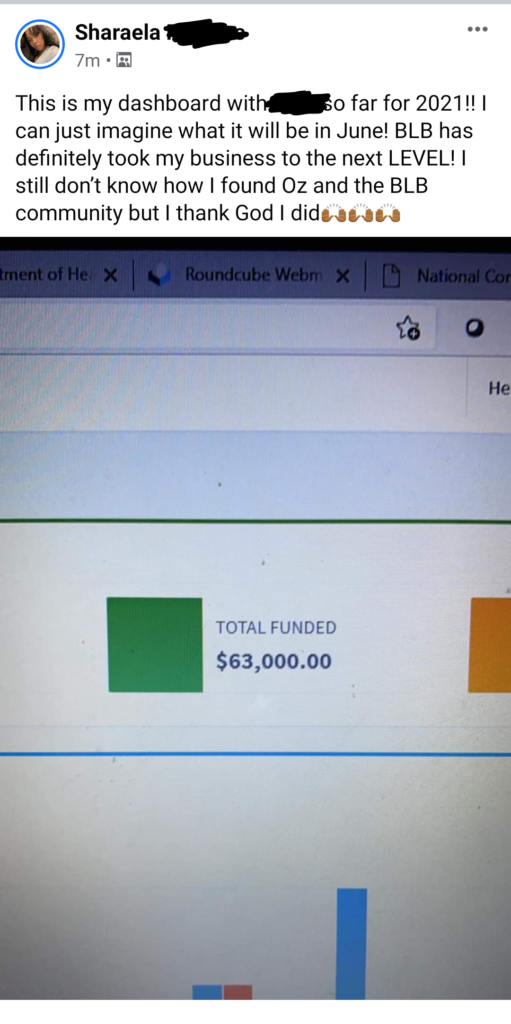 If you are always paying everyone else first, then you aren't being realistic in business. Charity organizations need money to function. Can you imagine if every charity suddenly stopped receiving donations or sponsorships? How would they help people?
The same principle applies for lending brokers. You need to look at the payments you get (no matter how big they may be) and acknowledge that you are worth it. You can and will make a huge amount of money with this system when used correctly. Don't self-sabotage yourself! A deal can take a lot of effort, or no effort at all.
Sometimes you feel like you overworked a deal for a payment that wasn't super big. But then other times everything clicks and you make a massive amount of money despite not having to try that hard.
Learn to accept the money that flows into your life and you will be 100% happier wherever you are. (Of course, the earning potential you have in a 9-5 cubicle job is usually lower than what you can make a business lending broker)
The Customer Is Right, But So Are You
Life isn't about bending over for everyone, it is about taking action and building the life you want to live. When you interact with someone, and you help them build their life, there is value to that. The same goes for employment jobs, healthcare, and virtually anything that involves other people. You teach people how to treat you.
Being a people pleaser is not the same as being a competent specialist. One lives their life for someone else, and the other seeks to make the client happy. There is a big difference there.
We teach our students how to be the latter. Someone who's life doesn't revolve around the deal. Because a deal may not take a huge amount of time to structure, we aren't adamant about how much time you need to spend each day. It may not take an hour or a day, or a week. It depends on the deal and how much time you can invest.
That's the weird thing about business. You can often achieve results with business models, but the person running it has to show up.
How much time you put in is going to depend on you and what you are willing to dedicate. Not everyone is going to work 8 hours a day on this, and you don't have to. This business can be worked with far less time commitment than you might think.
How Are Others Doing With The Blueprint?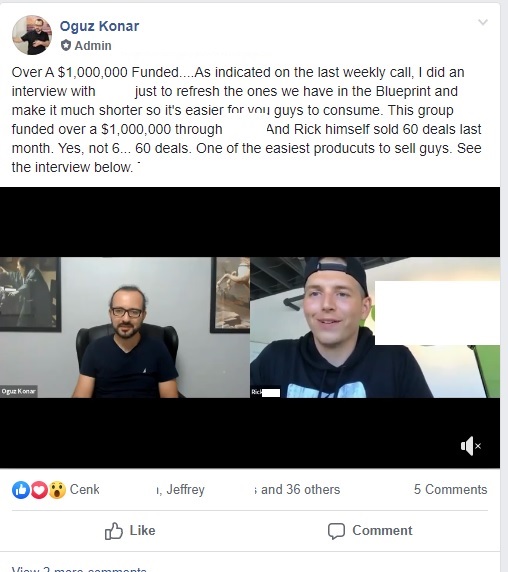 Our students find wonderful success as a business loan broker because they don't deviate from our success formulas. Whether it is the way we show our students how to market online, to the way we show them how to screen business clients, this system works.
We aren't a company that hides information behind paid veils or up sells. We believe that our system's value speaks for itself. When you use it, it works. When you consistently use it, it works even better.
Of course, we are constantly working to provide new and improved resources for our students. This means that we will be able to offer more value as our company expands.
(Of course, the amount of value you get with our blueprint is already well above our competitors. Especially in light of how affordable we are)
How Can I Be Sure That This Will Really Work For Me?
Only you can answer that question. People will say that if a business model really works, it isn't dependent upon the person. But that isn't true.
You have to know yourself better than others do. It is imperative that you truly understand what it means to be your own boss and work for something that doesn't have an hourly wage. There is a big difference between an employee and the boss. If you want to start your own business (and not have employees) then you need to become the business.
When you have expanded it enough, you will have the chance to hire help. (Or maybe you want to get help right away? That's your decision)
People frequently ask whether we are being honest or if we have not given the full package. We really do give you everything you need to be successful and make 6 figures a year. The primary reason you will succeed or fail is entirely on you.
Why Go With You Instead Of Another Company?
We are way cheaper for one, and second, they don't give you the information that we give you. Sure, they may teach than Merchant Cash Advance, but how are they teaching the other lending options? We teach how to use the right lending option perfectly. (We also teach creative funding methods that are really cool, like using Kickstarter!
How are they structuring the deals so that you can close them quickly and repeatedly? We aren't interested in seeing our students get one deal and then never get another. We want to see them become the most successful brokers possible.
When you win, we win!
Other companies are charging ridiculous amounts and have teams that are outsourced. We have teams that are officially part of the Business Lending Blueprint team. They are not part of some other team or company, they are working with you 100% of the way.
We give you access to a community where other brokers can help you along with our experienced coaches. This isn't an automated business, but it is a fully supportive one!
What If There Are Problems? Will You Help Me With A Deal?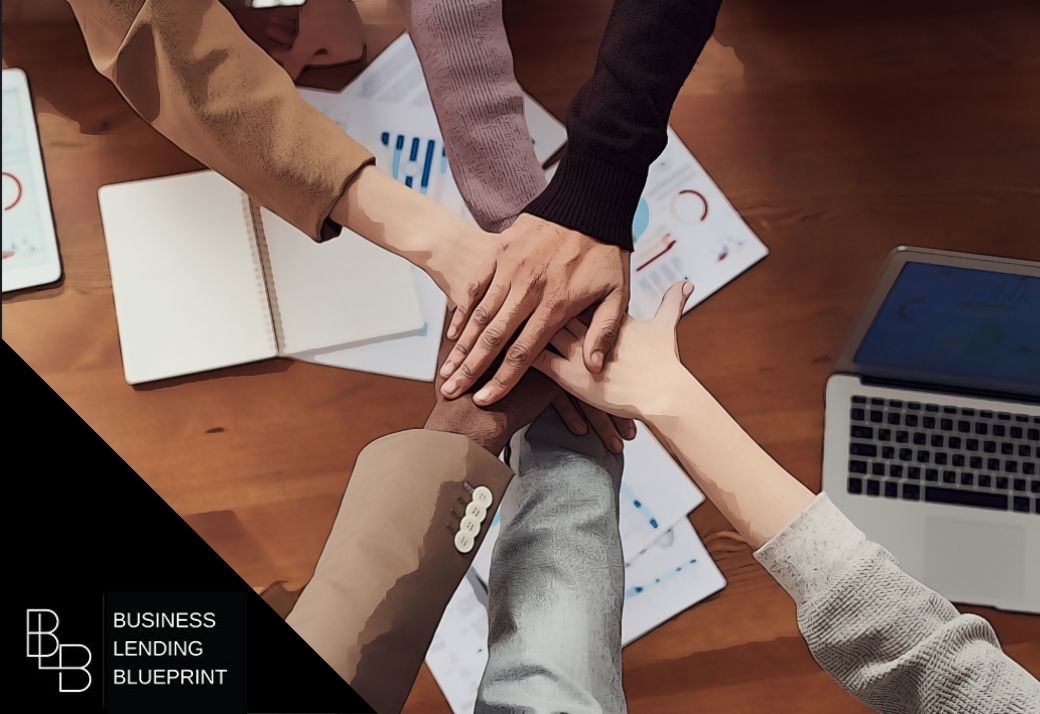 Yes! We are confident in our ability to help you close a deal you are struggling with. Ironically, some of our students will collaborate on deals, giving them direct messaging between themselves. Sometimes they solve problems independently of our support teams! (That's the power of the Blueprint)
Now maybe you are wondering about deals that won't work at all? Well, there are some rare circumstances when we simply can't help the client get the money they need.
A common example of this is when a company wants to purchase property that the owner or an employee will live in.
The issue here is that we are only able to help with business loans. So if a property is going to be "Residential", that makes it non-commercial. (Not an office space)
In that situation, we aren't able to help them. If they need money for an office, we have ways to structure that. But if they want to buy a house to live in, that isn't something we can structure.
Join The Business Lending Blueprint
If I haven't already introduced myself, my name is Oz. I am the creator of Business Lending Blueprint. It has been my goal and passion to help people quit their jobs and build the lives that they dream of. Everyone has something they want to do in life, but money is generally the obstacle they can't overcome.
People in my life have been affected by the economy. Whether it is being downsized, not having money for certain medical purchase, or a lot of stress because of their work, it's there.
With the Blueprint, this makes it possible to build a business and career that will work in any market. It makes you independent of employers, and it makes way more money.
Join the Blueprint, join the community, and join the revolution!

Regards,
Oz