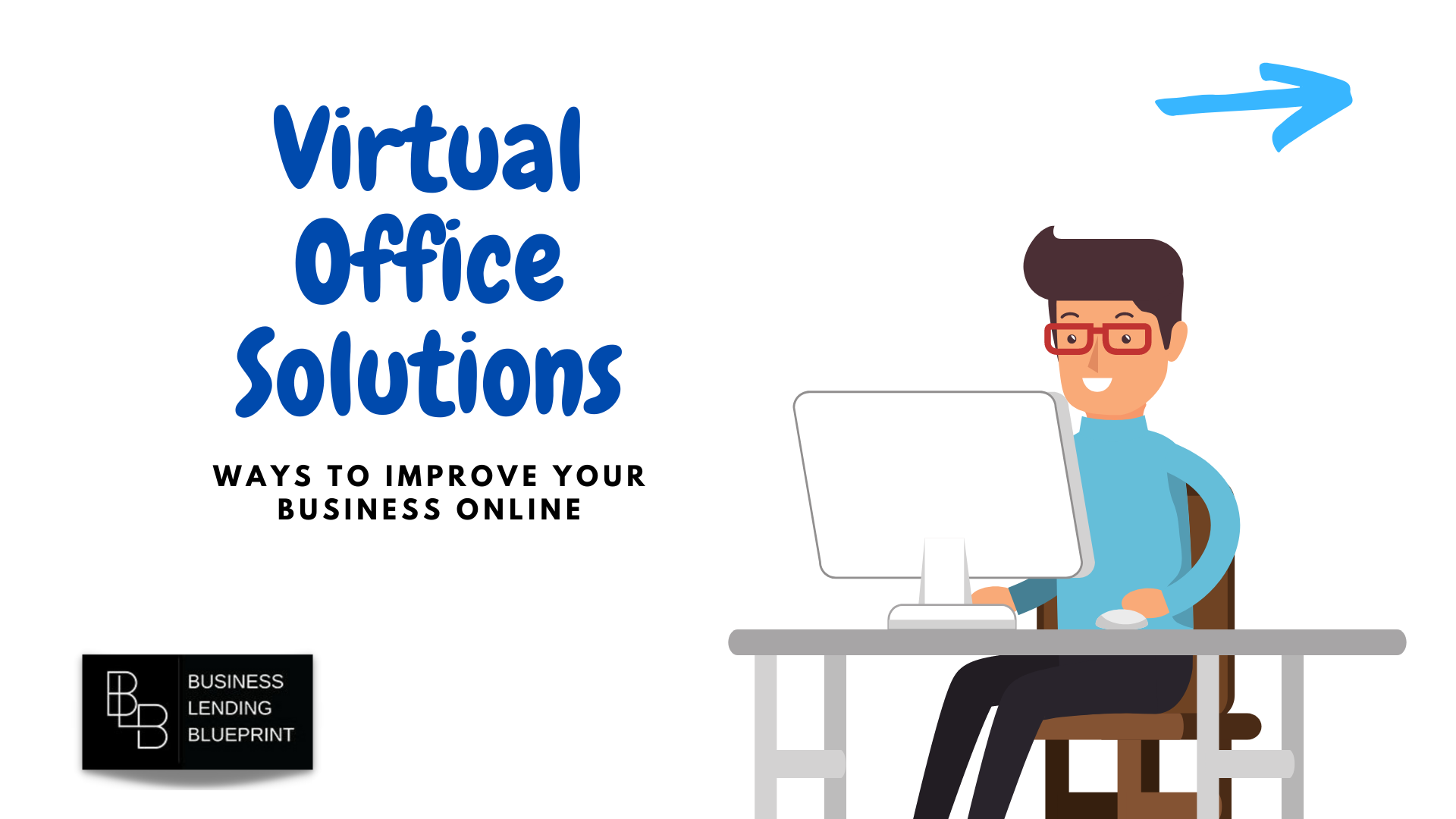 Virtual office solutions have become a must-have addition to any modern business. Even companies that aren't primarily internet-based are now adopting virtual solutions to their business functions. There are numerous ways to improve company functionality online. Today we're going to cover some of the best ways to start taking advantage of a virtual office.
To preface this, it should be noted that you should properly evaluate what is making your company successful. Building on a successful business is how companies free up time and resources for virtual office solutions. Here at Business Lending Blueprint we teach people how to build successful businesses that can withstand recessions. If your company isn't "recession-proof" then you should definitely click the link here and learn how to do that.
Industry experts predict that the economy is going to tank, so it is critical to protect your self and your income!
With that in mind, let's dive right in:
Why Use Virtual Office Solutions?

If you aren't conducting business online, you are practically not doing business. The worldwide web connects billions of people together in ways that can never be replicated.
With the rise in online commerce (especially now that most people are doing online shopping in light of the 2020 pandemic) it is highly lucrative to tap into the online commerce space. In fact, even before 2020, there were estimated to be 1.92 Billion online shoppers. (Not including those who've never made a purchase but have browsed)
There is an estimated 12-24 million online businesses running today. There is supply and demand on full view for the world to see. The purpose of virtual office solutions is to bridge human touch with technological advancements.
Businesses need solutions to problems that are relevant today. With more government regulations, laws, and limitations to what business owners can do, everything is becoming over complicated. We aim to make business simple, and lay it out in a "Blueprint." That way, you are following a set pattern for success. (Verses trying to figure everything out yourself via trial and error. Which doesn't help you make the most money fast does it?)
What Kinds Of Problems Need Online Solutions?
There are a multitude of problems startups and established businesses are facing today:
Lack of staff for specialized worker. (Specialists are integral for online businesses. For example, few are able to handle every aspect of a website from start to finish. Web designers, programmers, and even content specialists are all utilized around the world)
High demand for bulk staff. (Receptionists, customer support workers and other administrative roles are constantly being expanded. With more business being conducted, customer needs are going to increase.)
Sales & Marketing. (Although arguably the most important part of any business, this aspect of online commerce becomes difficult to quantify. Depending on the niche and market, sales teams can be composed of a few people to being hundreds strong)
Online Accounting. (Online business requires better solutions for finance tracking and management. In fact, one of the most pressing problems companies face is a lack of cashflow management!)
Gone are the days when offline solutions were ideal. Now it saves time and can even save money working in the virtual space. Creating an office that works regardless of physical location is highly advantageous.
Best Virtual Office Solutions
As mentioned before, there are simple yet effective ways to start using virtual office solutions.Those include but are not limited to the following:
Online HR Management Software
Call Centers (Virtual Receptionist Staff)
Financial Trackers (Business Management Software)
Online Contact Forms
Online FAQ Pages & Company Information Pages
Team Meeting Software (Online Meetings)
Other Ways To Improve Online Office Spaces
Cater your virtual office to the needs of the staff. A common mistake that businesses make is that they don't identify why their business is successful and then make improvements. Even though many companies operate on the internet, humans are still the driving force of industries. Thus, it is likely your company relies more on your staff than you think.
Making the money-making asset more comfortable or a better performer benefits everyone. The human factor is still critical for companies, especially when they haven't migrated to online systems yet.
The primary focus of the business owners should be to manage cashflow and handle the marketing. You need a specialist if you don't manage it yourself. To properly work with specialists who handle these facets of online commerce, you need the right tools.
How Does Business Lending Blueprint Help With This?

If we haven't met, my name is Oz Konar and I am the creator of the Blueprint. I have designed a tried and proven method of building a recession-proof business. Most of our students see results in the first 30-60 days of enrollment. Many quit their 9-5 grind and take control of their finances.
Have you wanted to do any of the following?
Work from home. (Or anywhere)
Set your own schedule.
Work solo or with teams.
Know that your income won't disappear if the economy crashes.
Have the ability to live a lifestyle that an employee can't.
If you've wanted to do any of the above, then you should watch my free training video that covers everything you need to know. The training video how you can build a 6-7 figure business online. If you're wondering how our students succeed, that training video will detail how it all fits together!
Conclusion
Some companies are only concerned with sales and immediate results. So when a student enrolls, they might get some small results and believe they are successful. But ultimately, it doesn't take them beyond the sale.
Here at BLB we teach our students how to fully replace their jobs, secure their income, and repeat success infinitely. We have numerous testimonials from people just like you.
Click here to view the testimonials about our course.
If you'd like to learn more, feel free to chat with us or click the button below to watch the training video!

See you soon.
Join the Revolution!
Oz