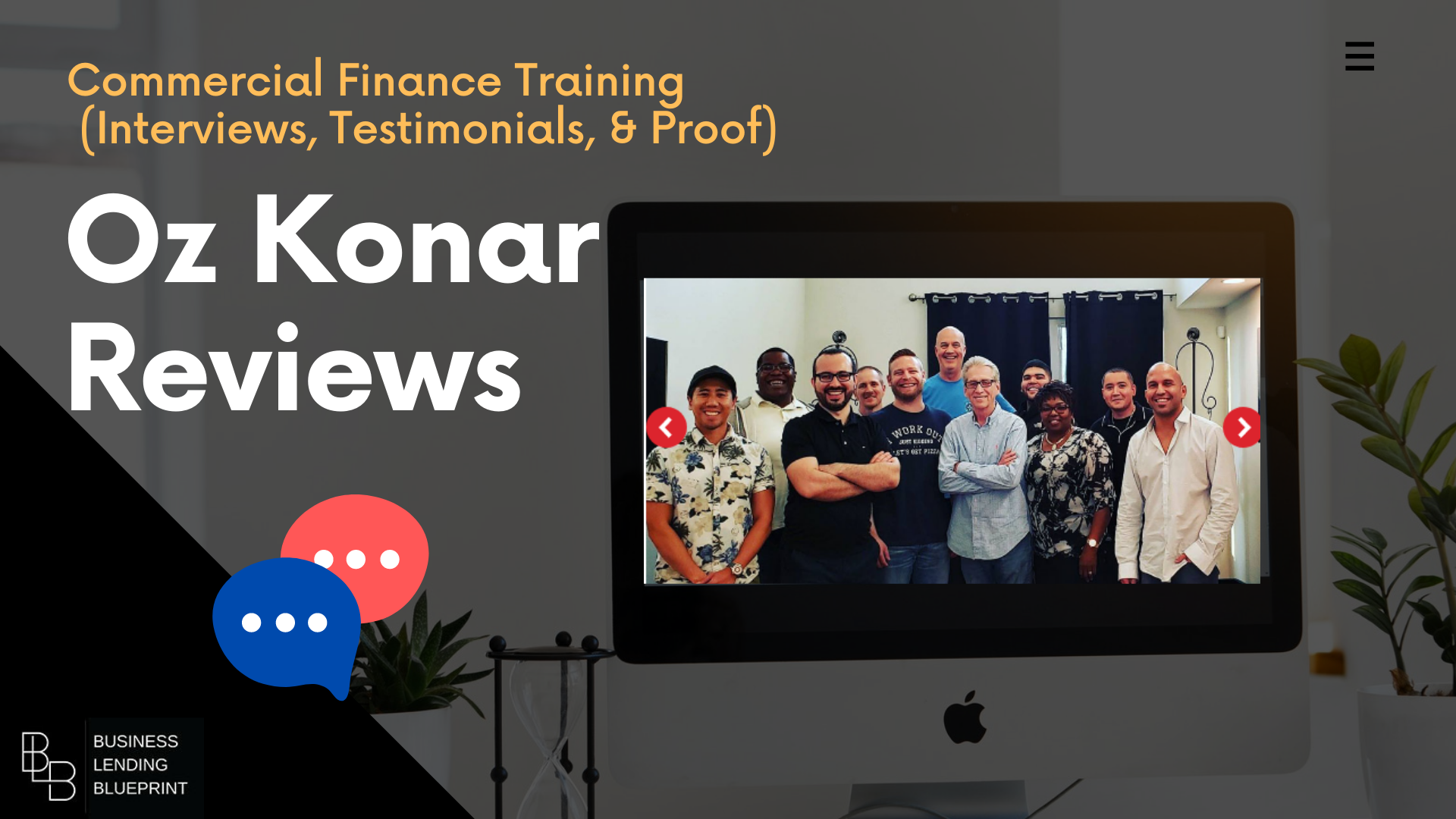 If you have ever been exposed to the lending industry at some point, you have probably heard of the terms "commercial finance training", "loan brokering", and or my name. If you searched up "Oz Konar reviews", then you probably heard about our educational program. A program that has taught thousands of people how to become a business lending broker. The industry is growing rapidly, and I have had the pleasure to share this business model with new people regularly.
The fact is, people are scared. They are tired of their jobs, and it isn't getting easier to make a living, it is getting harder. That's why I made this article today. I wanted to make a resource that people could reference which clearly shows that we are legitimate, proven, and effective. Every month numerous individuals like you are getting involved and taking advantage of our courses.
We also have a full set of pages dedicated to the reviews we've received which you can view, here.
In this article, you will see:
A brand new interview I had with Sean Murray from deBanked.com.
Some of the many video testimonials that we have received from students.
Success stories (Social media post and emails).
And of course, a little about why I am so passionate about training brokers.
Recent Interview With Sean Murray From deBanked
This interview covers a lot about the program, how I started as a broker in this industry, and why I teach loan brokering. It also offers a fresh perspective from Sean who asked many common questions we at BLB receive.
Questions Like:
How Much Money Can You Make With This Business?
How Many People Have Actually Gone Through The Course? (Spoiler, it is over 3000!)
Do You Have To Be Self-Motivated To Succeed With The Blueprint?
What Percentage Of People Want To Work From Home Vs. How Many Want To Build A "Broker Shop"? (And what happens when they make enough to hire?)
Does Your Business Have Structure? (About Our Team And Your Future Team) (Post Pandemic)
Do You Have Lenders For New Students To Work With?
Do You Have International Students Or Are They Only In The US?
Are There Other Funding Methods Besides Merchant Cash Advance That You Teach?
How Does This Business Fare In A Recession Or A Pandemic?
How Do People Get Introduced To Business Lending Blueprint?
What About Social Media Marketing Right Now? What Platforms?
Is Outbound Telemarketing Or Inbound Marketing Strategies Used? Are Both?
Is All Of The Marketing Paid Or Are There Free Options?
Are Lead Lists Good?
Where Do Brokers Get Stuck In This Industry?
Do You Host Live Events?
How Can I Get Started As a Loan Broker?
And More!


A Proven System
The sheer number of testimonials that we receive at BLB, and the quality we offer is unrivaled in this industry. We aren't building a "quantity" measured business, we focus on building relationships!
Because we focus on helping people succeed, and measure our own success like that, everything clicks.
The internet is moving too fast in many cases. A company puts out a product, sells it, and forgets about the buyer. Their money back guarantee has seemingly become an excuse to disconnected from their clients. That's stupid!
An educational company should focus on helping the students get results and do so until they don't have to help anymore. When a student is able to stand on their own two feet and do what the training teaches, that is how success should be measured!
It is also one of the reasons why our students excitedly give such positive reviews of our trainings.
What People Are Saying About BLB (5 Star Reviews We've Received)


"Business Lending Blueprint rocks. This is a well put together program. Mr Oz Konar, the brain behind this program knocked this one out of the park. For all those interested, please jump in and enjoy the ride – no regrets!"
– chiedu
3/19/21


"I have worked closely with over 100 brokers through the BLB and have had a great experience with each and every single broker. Everyone is so excited about the opportunity to fund deals and willing to learn best practices to be successful. I have nothing, but great things to say about the people that are part of this network. Keep up the great work, Oz!"
For Experienced Brokers & Newcomers Alike!
3/18/21


"I was in the commercial loan business when I stumbled upon Oz's videos. I've had success in the industry, but my pipeline was starting to appear thin. I realized my method of generating clients was limited. I was intrigued with Oz's videos because he was talking points that were real to me. He was not selling me ideas, rather he was diagnosing issues that were day to day real for me. Oz knew first hand what I was experiencing.
He seemed like a general who was devising a plan while being in the bunker along side of me rather than a general in an office thousands of miles away. I decided to invest in his program and I never looked back. His additional social media methods complimented my traditional methods exactly as I hoped they would. The added benefit that I did not expect was the generosity and expertise shared among his Facebook group members. This additional benefit alone paid off multiple times over the amount I paid for the training.
The members were very forthcoming in sharing success, failures, methods, technical support, and new findings. It motivated me to do the same. I publicly said this more than once, that the team takes on the personality of it's leader. Oz's sincerity and generosity trickles down to the fabric of the group. Simply stated; Oz Konar is the real deal."
How You Can Get Started Now
Would you like the chance to create a more profitable and more fulfilling life for yourself? Then I highly recommend you check out our 70 minute free training video which covers everything you need to know about this opportunity.
Regards,
Oz