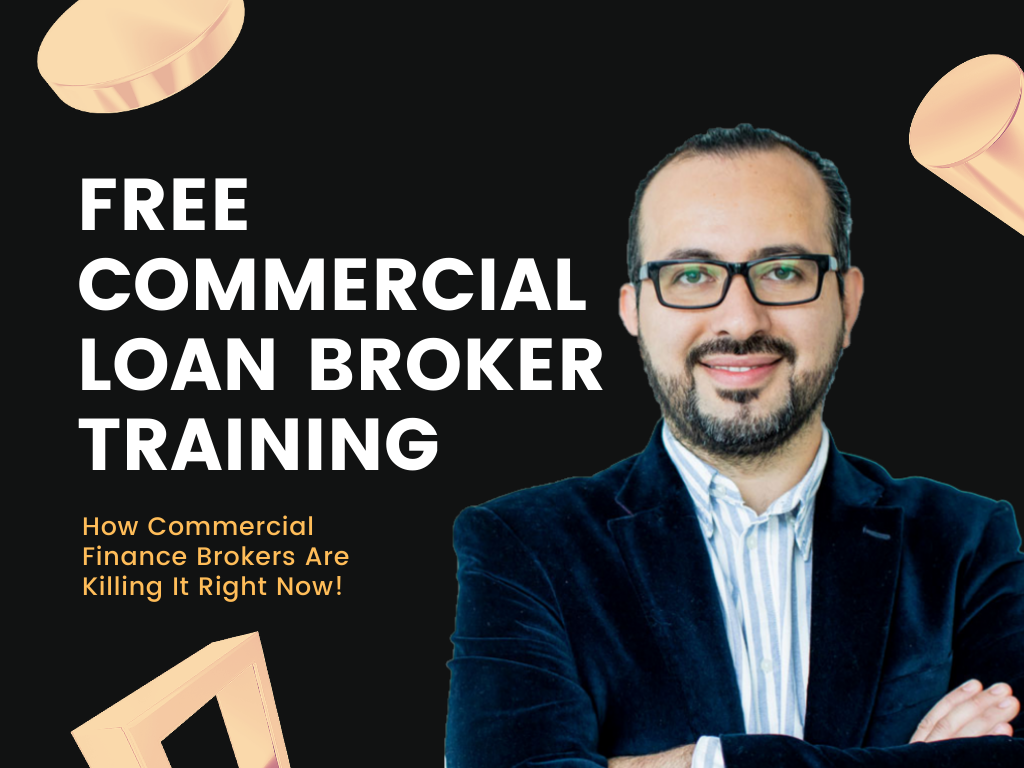 Have you ever heard the saying that something is "too good to be true?" What is the first thing you think of? Is it a celebrity marriage? A pill that solves all of your health issues? Or maybe it's the idea of valuable business education that's being given away for free? Well, I'm not into false promises, which is why I designed a 70 minute free commercial loan broker training! The training isn't some puff and fluff sales pitch either. I talk about concrete principles and practices that my students are often using today to make 6-7 figures a year!
But maybe your goals aren't so extravagant? Maybe you'd just like to quit your 9-5 and or make more money to afford a nice vacation for you and your family?
The "Blueprint" we've developed isn't your average business model, which is why I'm giving away this free training. It is both an introduction and an in-depth look at the techniques we teach here. It is an opportunity for you to see exactly what it looks like becoming a business lending broker and build a "recession-proof" business!
Why Our Free Commercial Loan Broker Training Should Cost Money, But Doesn't
We believe in quality over quantity. Although we have had thousands of people go through the blueprint, we made it our missions to ensure that every student received the care and attention they needed. Every new student that enrolls learns how to build a business like no other. We also give lifetime support, ensuring that with every market change, every variable, you have someone who can help you.
So what's the catch? There isn't one! The training video I've created is free, and after going in depth on what this business model looks like, offers an opportunity.
An opportunity to gain training and resources that no other company is giving by a long shot! Can you learn how to become a commercial loan broker without us? Yes. Can you do it as quickly, and with the surgical precision needed to close complicated situations? Probably not.
That's why we offer coaching, live support, case studies, connections to the lenders/lending options you need, and many ways to generate leads.
Success stories that aren't grounded in long-term results show a short-term scheme. We aren't interested in helping people gain a testimony; we want to change people's life altogether!
Money Isn't Everything. That's Why We Offer Free Training!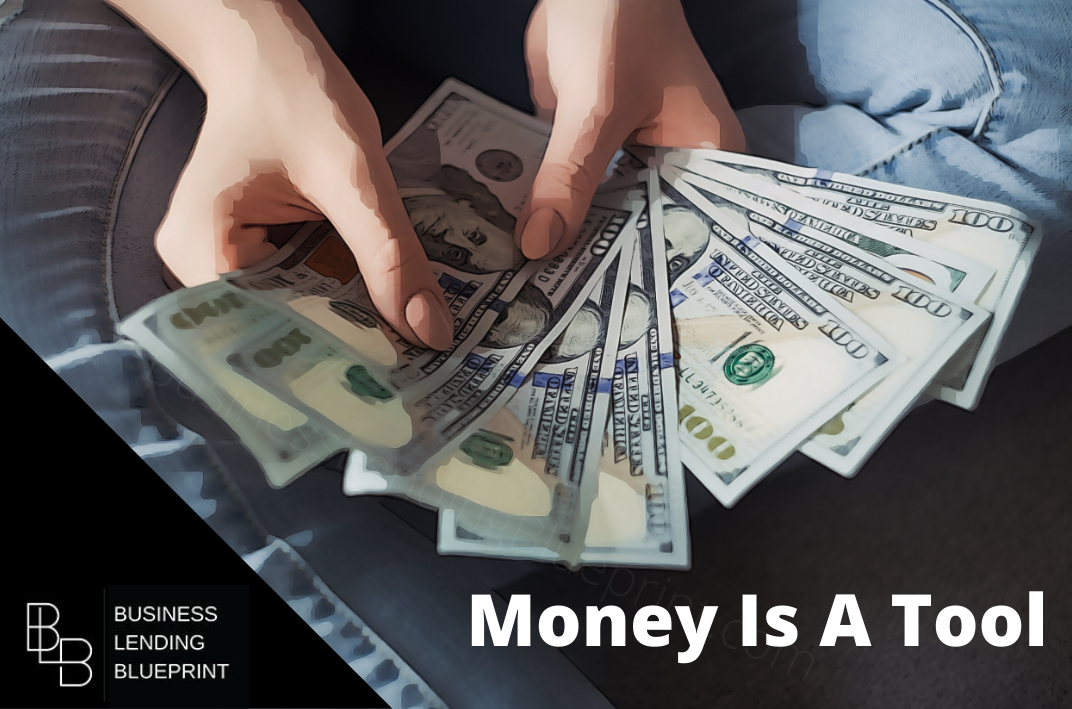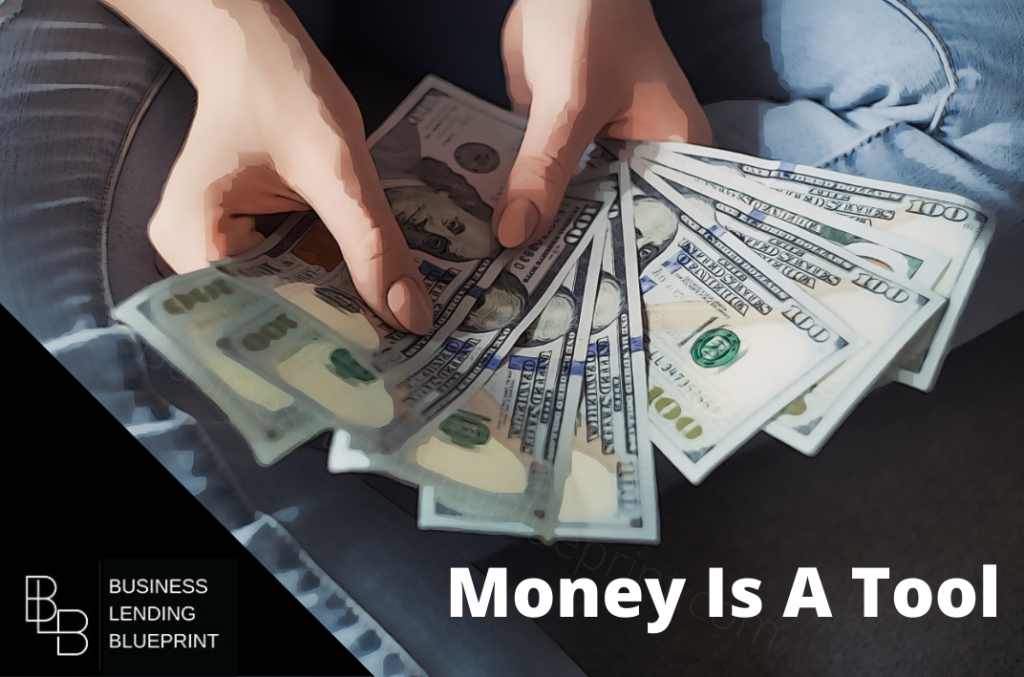 People's lives rarely improve or change because they think money will solve their problems. Sometimes it can, but usually the problem isn't with how much money they make. Otherwise, how do you explain lottery winners eventually going into even more debt and being worse off than before?
Have you seen the statistics about how lottery winners squander their money? Or how many of them spend every last dime within 5 years?
People don't want to admit it, but deep down, most know that money is just a tool. Even religious people know that money isn't inherently evil. It is the love of money that is root of all evil.
When people place money above their relationships, their passions, and their spiritual health, things fall apart.
Is it wrong to play the lottery? Of course not! But as studies will tell you, 70% of lottery winners go broke within 5 years. And about 1% of lottery winners go bankrupt annually… Let that sink in. Despite winning more money than they've probably ever seen before, people can still lose all of their money, and go bankrupt!
But Aren't You Teaching How To Make Money?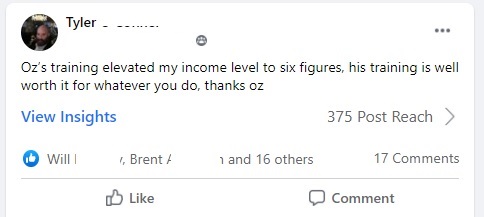 Yes, but money is just one component of running a business. That's why I'm giving access to my free commercial loan broker training. I want people to clearly understand what goes into making this business viable and successful.
Do you want a hint? It has a lot to do with your motives, your goals, and your work ethic! How lame would it be if I said "anyone can do this" without clearly explaining what you would have to do? Oh wait, that describes most other educational courses today!
(Cause let's be real here, we've all been scammed like that. Promised the world, but instead given a system that required way more than we could give!)
So how does this tie into the kind of business that we teach here? Well, we don't give the "rose-colored" glasses, or place you in an eternal "shiny thing" syndrome. We enable you to get started as a loan broker with your eyes wide-open!
This means less time wasted, less money thrown away, and results streamlined faster than comparable industries. (it also means that you will be building something that thrives in good and bad markets alike!)
How Does This Work In A Bad Market? Aren't We Already In A Bad Market?
Look at this 5 star review we received from one of our students in June, 2021!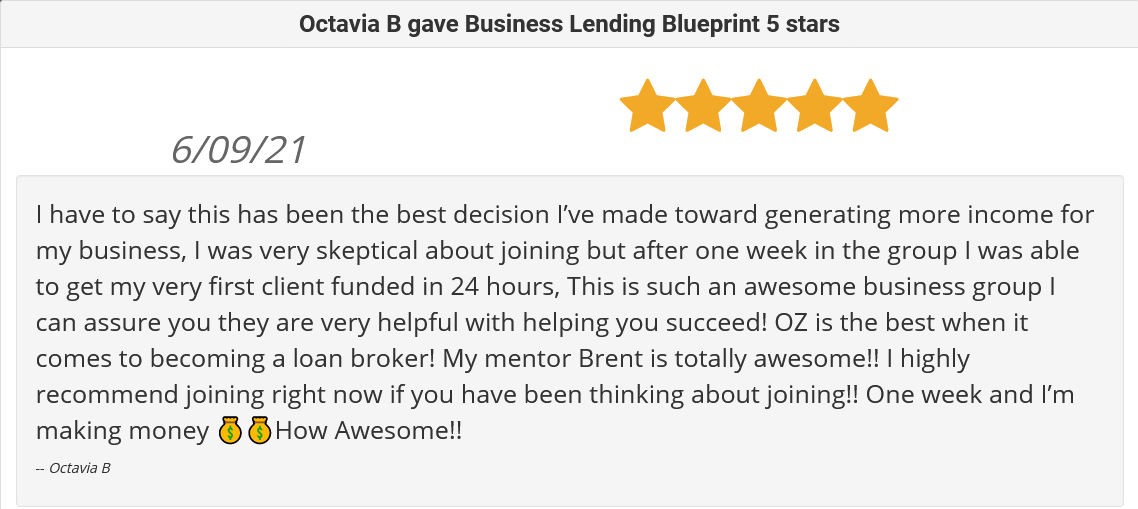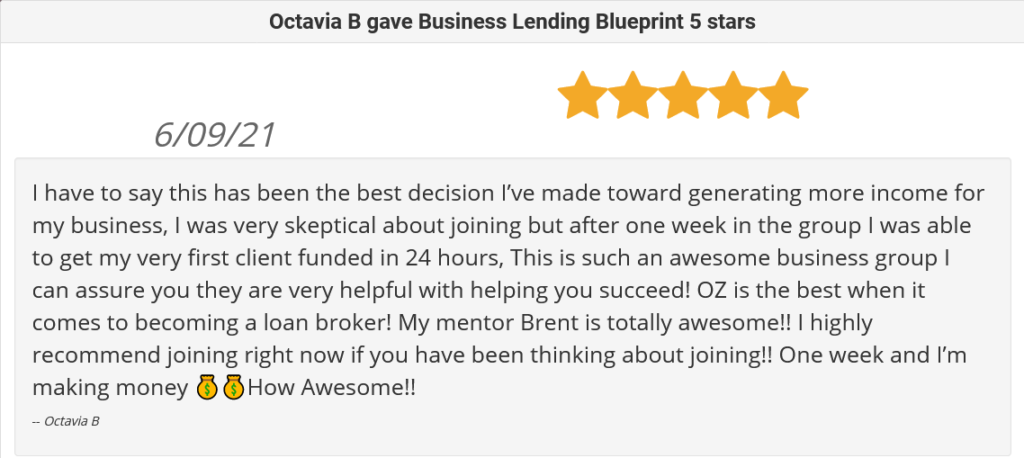 We are definitely in a bad market. At the very least, we are in a recovering market. Thousands of jobs were lost in 2020 due to the pandemic, and millions of businesses closed that same year. The reason loan brokering thrives even in a bad market is because brokers sell the best product ever, "money!"
Companies always need money, and so do startup entrepreneurs. The art of brokering a deal is nothing new, but finance is a foreign concept for most. So it isn't surprising that so many people aren't familiar with the idea of making money… off of money.
When I first realized that brokering deals for thousands of dollars was possible, I quickly saw the advantage of this career. After I became highly successful as a broker and quit my job, I realized that countless others wanted to do the same thing!
Whether you have experience as a lending broker or not, it doesn't matter. The formula for success is outlined in my "blueprint" and clearly understood by the average English speaker. Our coaches and support groups are all designed around optimizing profits and solving problems. Simple, effective, recession-proof.
If you would like to get started and begin building something that will change your life forever, click the button below and get my free commercial loan broker training!

See you on the other side!
Regards
Oz