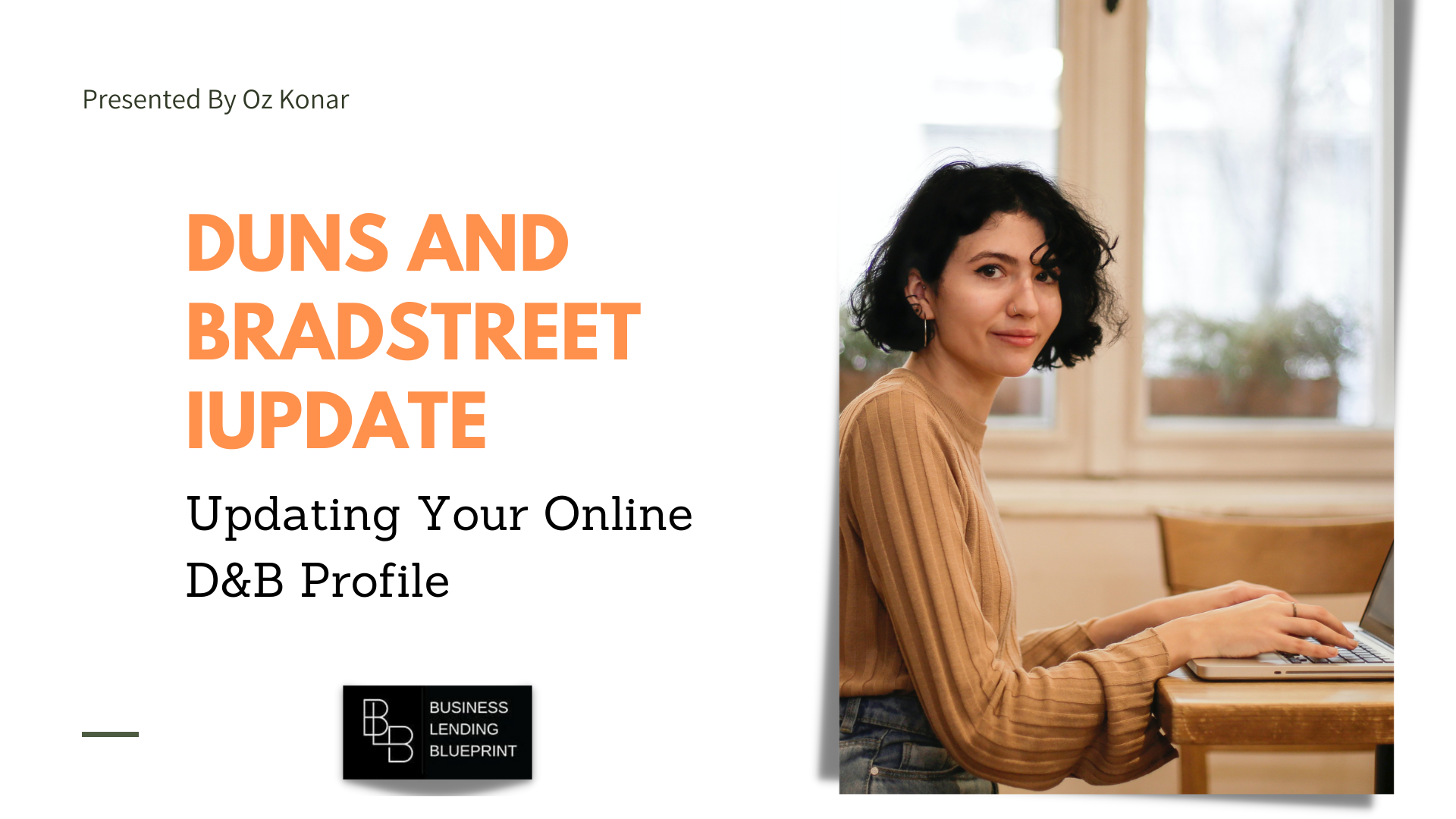 Dun & Bradstreet reporting remains a vital part of business credit reporting today. Unlike an EIN (which is issued by the government) a D&B Number is assigned by the company "Dun & Bradstreet". (You can learn the difference between a D&B Number and an EIN here. For those who already have a D&B profile and you need to update it, we've created a simple guide to using Duns & Bradstreet iUpdate.
Let's get right into this and go over everything you need to know about updating your D&B profile.
What Is Duns & Bradstreet iUpdate?
To up date your D&B profile, you will need to use a tool like " iUpdate DNB" which will give you the ability to manually change various details of your profile. There is no charge to use it, and you will have access to make changes to your account 24 hours a day!
When you are inside of the tool, you will be able to see 6 specific tabs that you can access:
Start Update Process
View/Print Company Report
Submit Financial Statement
Investigate Payment Experience
Data Update Policies and FAQs
User Profile
These will be used in conjunction with the following steps:
1. Lookup Your Business
When you access iUpdate, you will want to first check that you are listed. Once you've found your company listing, you can select it and then move on to the next step.
2. Verify Business Identity
Now that you have found your company listing, you will need to verify that you are the owner/company. There is a personal verification process which you will need to complete. (It doesn't take long at all)
3. Authorization Exam
There are three questions that you must answer to verify your identity. These are generally related to simple answers like date of birth and or when your DL was issued.
4. Setting Security Settings
You will want to make sure you have your security settings entered correctly. Once you have done this, then you will set 3 security questions of your own and then set a password for your account.
This process is straightforward and simple, but many aren't aware of how this process goes to begin with, which causes frustration.
Optimizing Your Listing
Using this tool to make changes to your account is pretty easy. You will simply need to verify what is shown on the account and make changes when needed. That way there are no errors being publicly shown. Furthermore, you will be able to be personally confident in what other companies see about you. (It is estimated that over 200 million companies use D&B for looking up other companies regularly.
You're specifically looking for the following to optimize your listing:
Fix any errors.
Update any old information.
Include any relevant data.
Using Duns And Bradstreet iUpdate is simple and effective.
How BLB Students Make Profit On D&B Listings
Here at BusinessLendingBlueprint we teach our students how to make money as a business loan broker. There are several key reasons why D&B listings prove lucrative to our students.
A company with a D&B profile is easier to evaluate. Loan brokers can quickly see whether that company will have an easier time or a harder time acquiring funding that they need.
If a company is in need of a D&B number, then our students can help them get one, or skip the process entirely in favor of getting them funds faster.
Furthermore, many of our students learn how to replace their jobs making 6-7 figures a year through our course. We aren't in the business of teaching useless information that you can't capitalize on. It wastes everyone's time if our students aren't seeing results quickly.
Which is why we're happy to report that most of our students see results in their first 30-60 days after enrolling!
How BLB Stays Relevant
New policies and laws are constantly taking affect. Many companies aren't keeping up. The following are ever changing, and our business model stays updated regularly:
Our business model doesn't need a website. (You don't need a web designer or webmaster to setup your business)
Marketing is shifting from static outreach to personalized offers. We teach our students how to use free methods and paid methods to gain the clients they need.
Everything we teach is legal. We make sure to only teach you what is up-to-date.
Many people fear they will have to work from home sooner than later, which is why everything we teach can be done from the comfort of your own home!
Company credit scores vary, and their eligibility does too. That's why we teach more than one lending method.
Getting paid once is nice, but we also teach our students how to structure the lending process for residual income.
If it wasn't already clear, we are 100% dedicated to your success. Our students come out of our course understanding how to make profit on the most popular product ever: Money.
How Does The Lending Process Work?
Depending on the situation and client, many of our students following the flowchart that we have designed. The flowchart helps them do the following:
Quickly decide which lending option is suitable for the client. (And see what they qualify for) This means our students spend less time evaluating and more time making money!
See which lenders offer the best terms.
Every business must be structured on demand. That's why all of our students love essentially selling money. Every company needs money, and our loan brokers help companies get it.
Normally, when a company need working capital or a means to do whatever they need to, they go to a bank. But banks are now much harder to qualify for, and online lending has a significantly higher approval chance!
We sought to teach Duns And Bradstreet iUpdate because it is something many businesses are suddenly needing to learn. If you want to become financially secure, you need what we teach!
Conclusion
Do you want to build a business that won't be crushed in the next recession? Want to quit your 9-5 job that you could be fired from at any time?
Or how would you simply like to have money to go on that vacation you've been wanting?
Whatever money and freedom means to you, we teach you how to get it.
Learn how to become a wealthy loan broker today!

See you soon!
Oz